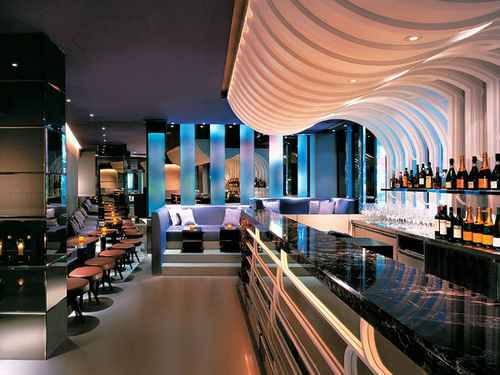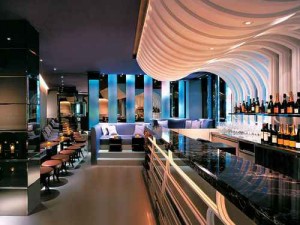 There's no getting around it: staying in Hong Kong is expensive. Accommodation will eat up the biggest chunk of your travel budget. Of course, that's to be expected in an international city where rents are comparable to those of New York City or London. Travelers coming from the mainland often experience hotel sticker shock, even those coming from Beijing and Shanghai. The first time I visited HK, I showed up during the high-season without a reservation, a guidebook, or clue. I flew in from southern India, where I spent 6 weeks mostly staying in cheap guesthouses. Eventually I found an overpriced place and left for the mainland 2 days later.
But depending on the time of year (and your tolerance for staying in grubby Guantanamo Bay-like prison cell rooms), budget travelers can get away with spending less than you might think (especially if armed with more info than I had during my first clueless trip).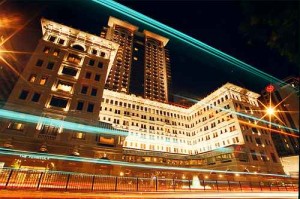 More than 56,000 rooms…and growing
About 25 years ago, Hong Kong had about 18,000 hotel rooms. Today, that number has mushroomed and will continue to grow (current occupancy rate is over 85%). With this huge supply of rooms, travelers can find a ton of choices, ranging from super-phat 5 star luxury hotels to super-crappy budget rooms.
HK's two biggest markets: Business travelers and Chinese tourists
With so many more rooms, you'd expect prices to go down or at least stabilize. Well, you'd be wrong. Supply has barely kept up with demand, driven mainly by (1) business travelers and the many conventions and trade shows that come through HK, and (2) the increased wealth of mainland Chinese and relaxed visa regulations, opening the flood gates of photo-snap-happy Chinese tourists.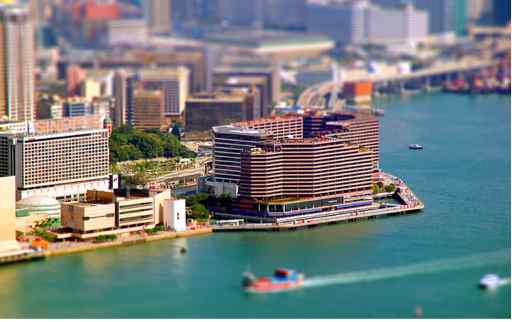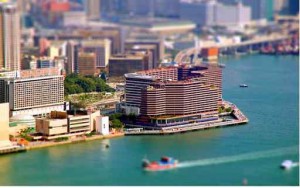 Book your room ahead if you can
Regardless of when you come to Hong Kong, it's a good idea to book well in advance, especially during the high season. Not surprisingly, Hong Kong's high tourist seasons coincide with the times when the area gets a break from their legendary hot & humid weather.
If possible, avoid the high seasons:
March – early May
October – November
Other peak times to avoid:
Chinese New Years (usually late Jan-early Feb depending on Lunar calendar) and other "Golden Week" travel times.
Times when huge conventions/trade shows come in town (but doesn't affect super-budget travelers as much). Check www.discoverhongkong.com for exact dates.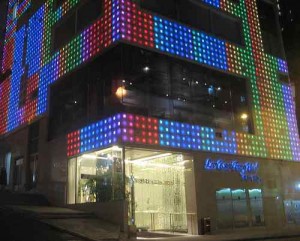 Some good news…
If you do travel during the low season, the large supply of rooms translates to pretty big discounts off the listed high-season rates. Up-market luxury hotels will often run special promotions, like upgrades or weekend specials. Similarly mid-range hotels will offer special off-peak rates. The best off-peak season bargains can usually be found online, so it pays to do your homework.
More good news
The cut throat competition for business travelers and tourists also translates to better service and amenities. So although the rooms are smaller than you're probably used to…they'll be comfortable. To keep up with the competition, most non-budget hotels offer Wi-fi, pay-per-view big screen TVs, room safes, fridges, and generally more attractive rooms than, say in the mainland. Another departure from the mainland: nonsmoking floors!
Hotels targeting business travelers in particular, typically have kick-ass business centers and all the related services. Luxury hotels are complete with full-on spa treatments and everything else you'd expect in the 5-star range. The last decade has seen a big growth in boutique hotels as well, offering their own distinct décor and personality.
Where to stay?
Most Hong Kong visitors to will either stay on Hong Kong island's downtown area (northern end), or directly across the harbor in Kowloon, where in general, you get a better value. Regardless of where you stay, it's key to find a hotel that's at least somewhat close to a MTR (subway) station.
If you're planning on doing any late night drinking or partying on Hong Kong island (where the main action is), you're better off staying on HK island. Otherwise you'll be stranded without any way to cross the harbor since the MTR shuts down at 1am at the latest.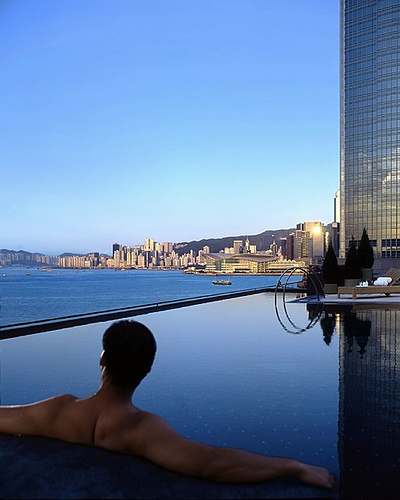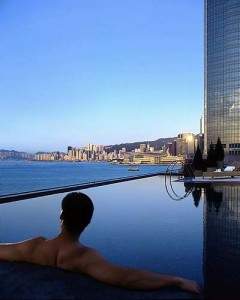 Hong Kong's luxury hotels
As expected, the prime real estate are the hotels in HK and Kowloon with harbor views. These include big time brand names like The Four Season, the Peninsula, Grand Hyatt, and the Intercontinental. Some of the newer luxury hotels have been resigned to build farther inland.
Competition is fierce for the very high-end luxury travelers—offering everything from insanely luxurious spas to Michelin star restaurants to rooftop helicopter service. Rooms at five-star international hotel chains—such as those above, as well as the Ritz Carlton, Shangri-La, Mandarin Oriental—will usually run you at least HK$3000 during the high season. Four-star hotels like the Crowne Plaza and Marriott, offer rooms starting around HK$2000.
For those looking for a less cookie-cutter experience, search out the many boutique hotels tucked away in different districts throughout area (mostly on Hong Kong island).
Budget backpacker hostels and guesthouses?
In the downtown city area of Hong Kong island, you're not going to find a lot in the way of hostels with dorm rooms (I've listed the Hong Kong hostel below). The Hong Kong Youth Hostel Association (www.yha.org.hk) lists seven hostels—only one is on HK island (and is outside the city, requiring a taxi after the MTR shuts down).
Other than a hostel, your next best budget option on HK island is to head to Causeway Bay, where you can find the cheapest guesthouses on the island; they are more expensive (but in general more comfortable with amenities like free internet) than their counterparts in Kowloon.
The cheapest rooms in Hong Kong?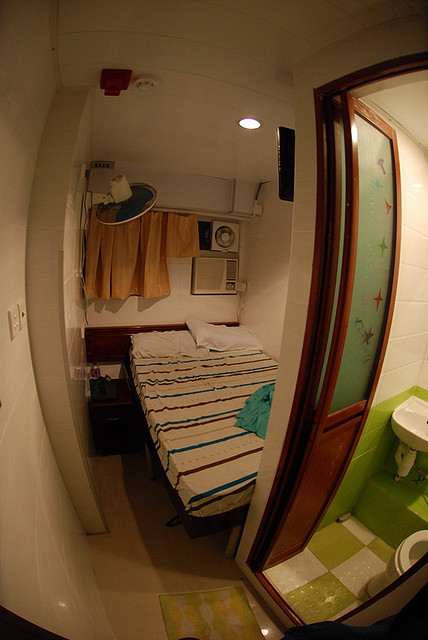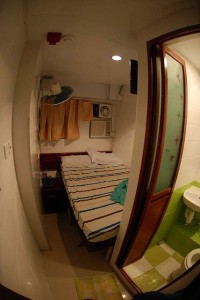 For super-budget travelers, Kowloon is the place to be. But again, the biggest downside is that you'll need to leave HK island by 1am at the very latest to catch the MRT back across the harbor. Specifically, the cheapest guesthouses are centralized in the legendary Chungking Mansions, a 14-story dilapidated old building filled with dozens of independently run guesthouses offering tiny rooms of varying levels of cleanliness and comfort. It's really a tourist sight in itself—a kind of slummy United Nations, packed with European backpackers & immigrants and travelers from Africa, India, and all points between. The bottom floors are full of shops and tiny Indian/Pakistani eateries (good place to exchange money or get a SIM card). At night, it gets a little seedy, with African hookers and random dudes loitering on the streets. But it still feels safe since it's smack dab in a high-rent area; the building itself also has 24-hour staff patrolling the building and video cameras everywhere.
Not far just north on Nathan Road, you'll also find the Mirador Mansion, offering similar accommodations. Tip: If you're staying in one of these "mansions", don't forget to pack a sleep sack (sleeping bag liner) and earplugs!
China Mike's list of Hong Kong's best hotels (as rated by major travel guides):
Whenever possible, I've listed the (approximate) room rates (based on best available info 2009-2010; obviously subject to change). Also note: the prices listed are the high-season room rates. During the HK high-season, expect to pay around:
BUDGET HOTEL: HK$150-300 (less if you can find a dorm)
MID-RANGE HOTEL: HK$400-1500/2000
HIGH-END HOTEL: HK$2000 to….
Some good news: Prices fall quite a bit during the low season (December to mid-January & hot & sticky months b/w June-Aug) and shoulder season, especially in the mid-range and high-end luxury hotels in Hong Kong. During these times, you can get up to 60% discounts if you book online or through an agency like the Hong Kong Hotels Association (www.hkha.org) which has reservation desks at the airport.

dm = dorm room (shared)
s = single room
d = double person room
tr = triple room
tw = twin rooms
f = family rooms


View Hong Kong in a larger map

[ NOTE: Open Google Map in another window to view all locations in left menu]


BEST HOTELS ON HONG KONG ISLAND
BUDGET HOTELS/HOSTELS:

Noble House
2576-6148
Flat A3, 17th floor, Great George Building, 27 Paterson St, Causeway Bay
s HK$240/ d 340/ tr 420
L. Planet: "26 squeaky clean rooms…although the décor looks decidedly tired."
Causeway Bay Guest House
2895-2013
Flat B, 1st floor, Lai Yee Building, 44a-d Leighton Road, Causeway Bay
www.cbgh.net
s HK$250 / d 350 / tr 450
Basic accommodation near shopping. LP: "If you want to save on accommodation to spend in Causeway Bay shoppolopolis, this no-frills but clean seven-room guest house might be for you." (enter through Leighton Lane)
Hong Kong Hostel
2392-6868
Flat A2, 3rd floor, Paterson Building, 47 Paterson Street, Causeway Bay
www.hostel.hk
dm HK$120-150/ s 340 / d 400 / tr 500
110 rooms in a large building; cramped but rooms include TV and mini-fridge. LP: "Good place to meet other backpackers….not spacious but well equipped…standards do vary a bit, however, so look at a few."

Alisan Guest House (Fodor's Choice)
2838-0762
Flat A, 5th floor, Hoito Court, 23 Cannon Street, Causeway Bay
http://home.hkstar.com/~alisangh , alisangh@hkstar.com
s HK$350/ d 450 / tr 550
Family run guesthouse with 21 clean rooms and good service (consistently rated well with travelers). Fodor's: "Rare (budget) find in an area with mostly luxury hotels…Everything is clean and functional, with free Wi-Fi as well as a public computer in the corridor on each floor. Basic rooms are small, and paying the extra HK$120 for a larger room with a harbor view is well worth it. "

MIDRANGE HOTELS:
Eden
2851-0303
148 Wellington Street, Central
s from HK$700/ d from HK$900
The place to go if you're planning on bringing over an overnight guest (even have 2 & 3 hour rates); close to Lan Kwai Fong party district. You can even get a discounted "overnight" rate (HK$450) if you check in after 1am (you can leave your bag at reception). LP: "facilitating coupling seems to be Eden's specialty….small but stylish rooms have everything you need: down-filled bedding, DVD players, free wireless broadband, plenty of mirrors and condoms."
Hotel Bonaparte
2366-8977
11 Morrison Hill Road, Wan Chai
www.hotelbonaparte.com.hk
Rooms from HK$800
Small room but newish fixtures, minibar & wifi. LP: "Tiny (rooms)….few frills to this place. The clinchers are the prices, the crisp new fixtures, and the minibar and wi-fi freebies."
Central Park Hotel
2850-0899
263 Hollywood Rd, Sheung Wan
www.centralparkhotel.com.hk
HK$900-2000
142 modern rooms; good location close to SoHo and Central.   LP: "Sleek, modern rooms that, while not tiny, seem bigger than they are through the effective use of mirrors….location is great."
Ice House (Frommer's "Best for Long Stays")
2836-7333
38 Ice House Street, Central
www.icehouse.com.hk
HK$1000-1800
Located in the middle of Central, a good value, with 64 large suites (with a kitchenette, small desk and internet access). Frommer's: "convenient location in Central near Lan Kwai Fong, smart-looking rooms with kitchenettes, and competitive prices."
Bishop Lei International House (Fodor's Choice) (one of Frommer's "Best Mid-Range Hotels")
2868-0828
4 Robinson Road, Mid-levels
www.bishopleihtl.com.hk
HK$1080-1680/ suites from HK$1880
Over 200 average rooms (but with swimming pool and free wifi). Fodor's: "Rooms are quite small but functional, and half have harbor views…economically priced (but) fully equipped business center, a workout room, a pool, and a restaurant serving Chinese and western meals. Pros: walking distance to SoHo and Lan Kwai Fong, good value. Cons: starting to show age." Frommer's: "There's nothing fancy about this hotel, but I love its location near the Central-Mid-Levels Escalator in a residential neighborhood, its outstanding views from otherwise standard rooms, its coffee shop with an outdoor terrace, and its outdoor pool. A great choice for expat wannabes."
Garden View International House
2877-3737
1 MacDonnell Road, Central
HK$1350-1750 / suite from HK$2500
On the border of Central & Mid-Levels, it's a good midrange choice in Central.  LP: "YMCA-run Garden View has fine views and is one of the better midrange places in Central….rates are about half in the low season."

Lan Kwai Fong Hotel (Fodor's Choice) (one of Frommer's "Best Mid-Range Hotels")
852/2850-8899 or 3650-0000
3 Kau U Fong, Central
www.lankwaifonghotel.com.hk
HK$1400-2750
Boutique hotel (opened in 2006) with 162 rooms & 5 suites. Fodor's: "Popular with journalists and designers who appreciate its contemporary Chinese decor and SoHo location….location in the middle of the Western SoHo area, which is full of art galleries, antiques shops, and boutiques, is another major selling point; an open-air breakfast lounge capitalizes on these colorful surroundings… Pros: hotel and neighborhood have lots of character. Cons: narrow roads surrounding hotel are often congested." Frommer's: "I love this boutique hotel for several reasons, including its chic Chinese decor and its colorful location in the Western District near Graham Street Market."

Lanson Place Boutique Hotel & Residences (one of Frommer's "Best Mid-Range Hotels")
852/3477 6888
133 Leighton Rd., Causeway Bay
Frommer's: "This Jia competitor offers much of the same at slightly lower prices, including upbeat, contemporary rooms with kitchenettes (and a welcoming basket of goodies), large LCD TVs, and DVD players (there's a free DVD library). Breakfast and Wi-Fi are also free."

Fleming
3607-2288
41 Fleming Road, Wan Chai
www.thefleming.com
HK$1880-2980
LP: "Rooms at this boutiquey little place strike a good balance between smart minimalism and cozy homeliness."
Hotel Jen (Fodor's Choice)
2974-1234
508 Queen's Road West, Western
www.hoteljen.com
Rooms from HK$650
New hotel (opened in 2008) with 280 rooms & 5 suites. Fodor's: "Sleek, Zen-like atmosphere…Korean and Japanese tourists comprise a significant portion of the clientele here. …Pros: unbeatable value, relaxing atmosphere. Cons: no easy access to an MTR station, so not convenient for visiting other parts of Hong Kong (or) for those seeking raucous nightlife."

Charterhouse Hotel
2833-5566
209-219 Wan Chai Road, Wan Chai
HK$1250-1900
LP: "Book online for big discounts on fairly comfortable rooms"

East Hong Kong $$ (New York Times Pick)
852/3968-3968
29 Taikoo Shing Road, Island East (next to Taikoo MTR station)
www.east-hongkong.com
345 rooms NYT: "Sleek and affordable hotel in the heart of Taikoo that captures the vibe of hipper districts like Central and Tsim Sha Tsui….gorgeous rooftop bar and expansive views….(bathroom) with open-floor plan..share this room with someone you know well, or things could get awkward."

HIGH-END/LUXURY HOTELS:
Hotel LKF
3518-9688
33 Wyndham Street, Central
www.hotel-lkf.com.hk
Rooms from HK$2100
LP: "Right in the thick of Lan Kwai Fong action (but far enough above it not to be disturbed by it), the stylish LKF offers spcacious rooms…staff is eager to please."

Jia (Frommer's "Best Trendy Hotel" and one of "Best Mid-Range Hotels") (Fodor's Choice) (New York Times Pick)
852/3196-9000
1-5 Irving Street, Causeway Bay
www.jiahongkong.com
HK$2500 / suites from HK$3500
Very chic boutique hotel with 57 rooms. Frommer's: "minimalist, high-tech decor and gadgets in its rooms…access to a couple of Hong Kong's hottest clubs make this a shoo-in for fashion-conscious travelers ready to burrow in… Guests also enjoy a host of freebies, including free local calls, free Internet access, free breakfast and cocktail hour, free access to a nearby gym, and — for long-staying guests — a free massage." Fodor's: "One of the hippest places to drink or dine in town. ..Pros: trendy yet reasonably priced for the area. Cons: no on-site gym, only one dining option."

Landmark Mandarin Hotel
2132-0188
15 Queen's Road Central, Central
www.mandarinoriental.com
HK$3000-5600 / suites from HK$6840
Boutique 5-star hotel with 113 big rooms (but without views). LP: "Hotel's contemporary design is beautiful throughout…and service is top notch. The drawback: there are no views."

Four Seasons Hotel (Frommer's "Best Spa") (Time Out HK's 2010 "Best Hotel")
3196-8888
IFC 3, 8 Finance Street, Central
www.fourseasons.com
Rooms from HK$4500 / suites from HK$7500
As expected, everything about this hotel is spectacular, including the panoramic harbor views. Great spa and swimming pool. Frommer's: "(Spa includes) a Finnish sauna, an amethyst crystal steam room with mother-of-pearl covered seating, a fountain that rains crushed ice flakes, and hot tubs..for the ultimate splurge, spring for one of the VIP suites, where after your massage you'll retire to your own jet bath overlooking the harbor. ..it doesn't get any better than this."  Time Out magazine: "The stunning guest suites are backdropped by Victoria Harbour, and when it comes to wining and dining they boast two of the city's three Michelin-starred restaurants. Long story short – this hotel has taken hospitality to a whole new level."

The Upper House (Time Out HK's 2010 "Best Hotel" — Runner-Up)
Pacific Place, 88 Queensway, Admiralty
852/2918-1838
www.upperhouse.com
Time Out magazine: "Swire Hotel's first property in Hong Kong stands out with its minimalistic cool edge. There's no lavish lobby or extravagant buffet restaurants. It's refreshingly simple, and that's why we love it."

Mandarin Oriental (Frommer's "Best hotel for business travelers")
800/526-6567in the U.S., or 852/2522 0111
5 Connaught Rd., Central
www.MandarinOriental.com/HongKong
Frommer's : "Offers all the services road warriors have come to expect…the MTR, Star Ferry, and express train to the airport are just minutes from the hotel's front door, and for busy executives looking for a convenient place to chill, Chater Garden is just across Statue Square."


BEST HOTELS IN KOWLOON
BUDGET:
Star Guesthouse
2723-8951
6th floor, 21 Cameron Road, Tsim Sha Tsui
www.starguesthouse.com
HK$350-550
LP: "owned and run by the charismatic Charlie Chan, who can arrange almost anything….small, clean rooms."

Lee Garden Guest House
2367-2284
8th floor, D Block, 36 Cameron Road, Tsim Sha Tsui
HK$350-550
LP: "Sister property up the road from Star Guesthouse."

CHUNGKING MANSIONS (36-44 Nathan Road, Tsim Sha Tsui):
LP: "Chungking Mansions has been synonymous with budget accommodation in Hong Kong for decades….stacked with dirt-cheap hostels, guest house, curry houses, immigrants, and all manner of merchants. Rooms are usually minuscule…literally dozens of options in C. Mansions and the similar Mirador Mansions, just up the street, so shop around."
Payless Guest House
3119-2888
Flat A2, 7th Floor, A Block
HK$100-200

Park Guest House
Flat A1, 15th Floor, A Block
HK$100-220

New Yan Yan Guest House
2366-8930
Flat E5, 12th floor, E Block
HK$150-250

Welcome Guest House
2721-7793
Flat A5, 7th floor, A block
HK$120-190

Chungking House
2366-5362
4th & 5th floor, A Block
chungkinghouse@yahoo.com.hk
HK$160-400


MIRADOR MANSION (58-62 Nathan Road, Tsim Sha Tsui)
Cosmic Guest House
Flat A1-A2 & F1-F4, 12th floor
www.cosmicguesthouse.com
HK$120-220

Mei Lam Guest House
2721-5278
Flat D1, 5th floor
HK$200-250

World Wide Guest House
2311-3550
Unit E1, 14th floor
wwgsthse@biznetvigator.com
HK$250-350

Man Hing Lung Hotel
2311-8807
Flat F2, 14th floor
www.manhinglung-hotel.com
HK$120-240


MIDRANGE HOTELS:
Rent-a-Room
2366-3011
Flat A, 2d floor, Knight Garden, 7-8 Tak Hing Street (Jordan MTR)
www.rentaroomhk.com
s HK$600/ d 700 / tr 1050
70 small but very clean rooms (with). Next to the Jordan MTR station, exit E. LP: "70 compact but immaculate rooms spread across several flors. Each room has shower, safe, TV, telephone, internet access, and fridge."

Booth Lodge
2771-9266
11 Wing Sing Lane, Yau Ma Tei (http://boothlodge.salvation.org.hk)
s HK$620 / tw 1500
LP: "Spartan and clean but fair value." Reception on 7th floor.

Salisbury YMCA (Frommer's "Best Budget Hotel")
854/2268-7000 or 2268-7888
41 Salisbury Road, Tsim Sha Tsui
www.ymcahk.org.hk
dorm HK$230 / s 850 / d 950-1200 / suites from 1650
Good value. Basic rooms operated by the YMCA…but great facilities and views (and location). Frommer's: "fantastic location…a short walk from the Star Ferry. Rooms are simple but offer virtually everything (from satellite TVs to Wi-Fi and coffeemakers); some even have stunning harbor views…(add in) two inexpensive restaurants, a health club, and laundry facilities, and you have more than enough to satisfy budget-minded vacationers who don't want to sacrifice location or convenience."

Minden (L.Planet top pick)
2739-777
7 Minden Ave, Tsim Sha Tsui
www.theminden.com
HK$900-1500/ suites from 2500
Close to both Tsim Sha Tsui & TST East MTR stations, this charming hotel is located in a cool neighborhood.  LP: "boutique-ish Minden is a welcome injection of charisma to HK's midrange hotel gang, in a great little corner of TST….nestling beside cool bars and sushi joints. Packed with Asian and Western antiques, curios and furnishings, it's an eclectic mix that works."

Nathan Hotel
2388-5141
378 Nathan Road, Yau Ma Tei
www.nathanhotel.com
HK$1080-1480 / suites from 1880
LP: "Stylish, spacious and relatively good value even if hotel facilities are a tad sparse. Good low season deals." Enter from Pak Hoi Street.

Park Hotel
2731-2100
61-65 Chatham Road South, Tsim Sha Tsui
www.parkhotel.com.hk
HK$ 1100-2000/ suites from 2600
LP: "Vibrant renovation in spacious rooms matches the warm service" (enter on Cameron Rd)

Stanford Hillview Hotel
2722-7822, 2313-7031
13-17 Observatory Road, Tsim Sha Tsui
www.stanfordhillview.com
HK$1480-1680 / suite from 2680
Great location close to restaurants and bars.  LP: "A quality hotel in just about our favourite location in TST, with little traffic noise but seconds from loads of bars and restaurants"

The Luxe Manor (one of Frommer's "Best Mid-Range Hotels")
852/3763 8888
39 Kimberley Rd., Tsim Sha Tsui
Frommer's: "This boutique hotel is like no other, with a whimsical decor that resembles a stage setting for Alice in Wonderland — but designed by Salvador Dalí. Unusually shaped furniture, faux fireplaces, and other fun touches make a stay here totally out of the ordinary."

Newton Hotel Kowloon
2787-2338
66 Boundary Street, Mong Kok
www.newtonkln.com
HK$650-1300 / suites from 2200
Decent value. Close to Prince Edward MTR station. LP: "Reasonable value but no surprises."

Dorsett Seaview Hotel
2782-0882
223 Nathan Road, Yau Ma Tei
www.dorsettseaview.com.hk
HK$480-1450 / suites from 1500
LP: "Clean, basic, well-located stand-by. Book online for best rates"
HIGH-END/LUXURY HOTELS:
Royal Garden Hotel
2721-5215
69 Mody Road, Tsim Sha Tsui East
www.rghk.com.hk
s HK$2000-3000/ d 2450-3150 / suite from 4100
Good value with nice rooms, and rooftop facilities, including pool & putting green. LP: "one of best-equipped in Kowloon and offers solid value given plushly appointed rooms, rooftop recreation facilities, fine restaurants and smart service."

Hotel Panorama
3550-0388
8a Hart Ave, Tsim Sha Tsui
www.hotelpanorama.com.hk
Rooms from HK$2400 / suites from 5800
A new, huge hi-rise in the middle of TST with great views of the harbor.  LP: "Worth a look if Royal Garden is full…swishly fittted-out rooms"

Hotel Inter-Continental Hong Kong
2721-1211
18 Salisbury Rd, Tsim Sha Tsui
www.hongkong-ic.intercontinental.com
HK$2900-5560 / suites from 5400
LP: "Getting on a bit but still boasts the finest waterfront position on the territory, excellent service, some destination restaurants including Sppon and Nobu, and a terrific spa….view from Lobby Lounge bar is unbeatable."

Peninsula Hong Kong (Frommer's "Best Historical Hotel")
2920-2888
Salisbury Rd, Tsim Sha Tsui
www.peninsula.com
HK$ 4000-5600 / suites from 6600
Great facilities and service in this colonial style luxury hotel, HK's oldest built in 1928. Frommer's: "Boasting the most ornate lobby in Hong Kong, it retains the atmosphere of a colonial past, even down to its restaurants, Gaddi's and the Verandah, both of which have changed little over the decades. Even its tower addition, with high-tech rooms and a trendy rooftop restaurant, only adds to the general aura."


BEST PLACES TO STAY IN THE NEW TERRITORIES

Country & Marine Parks Authority
28 free, basic campsites and 11 on the Outlying Islands for hikers and trekkers.
www.afcd.gov.hk (Country & Marine Parks)

Ascension House
26914196
33 Tao Fong Shan Road, Sha Tin
www.achouse.com
Dorms HK$125
LP: "Probably the best deal in Hong Kong…getting here is a challenge so follow directions from website or take a cab from Sha Tin station."
BEST PLACES TO STAY IN THE OUTLYING ISLANDS

Hongkong Bank Foundation SG Davis Hostel
2985-5610
Ngong Ping, Lantau Island
www.yha.org.hk
dorms HK$60-90 / d HK$230
10 minute walk from bus stop near Tian Tan big Buddha.

Bali Holiday Resort
2982-4580
8 Main Street, Lamma
HK$280-380 / apartments HK$560-760
About 30 studios and apartments around the island with TVs, fridges and A/C.

Man Lai Wah Hotel
2982-0020
2 Po Wah Garden, Yung Shue Wan, Lamma
hotel.my.netnavigator.com
Mon-Fri HK$300-350 / weekends 500
Only 9 rooms but nicely equipped (near ferry)

Warwick Hotel
2981-0081
Cheung Chau Sports Road, Tung Wan Beach, Cheung Chau
www.warwickhotel.com.hk
Mon-Fri HK$740-840 / weekends 1090-1890 / suites from 13410/1900
Return from Best HK Hotels to Hong Kong Guide