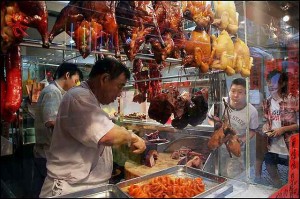 Hong Kong rewards the adventurous eater. If HK is the first city on your China tour, don't expect to order the #4 Beef & Broccoli that you normally order back home at the Panda Express. Actually, you still can find that sort of watered-down tourist fare…just look for the restaurants with the English menus (and empty tables). But your best bet to enjoy the local cuisine is to follow the crowds.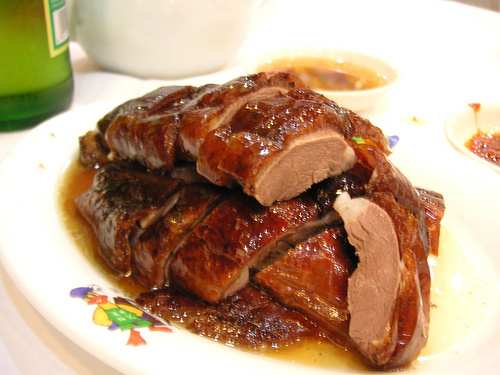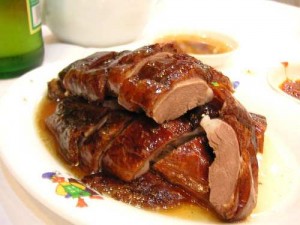 Many of the smaller restaurants catering to locals won't have an English menu. Not to worry. Just scope out what everyone else is eating and use the ole point-and-order method. Since English is widely spoken, it'll probably be the only time in China where you'll be able to actually ask questions ("Exactly what kind of meat is that?"). It's a good technique since often the more exotic local specialties aren't listed on the tourist menus. And if you're chopsticks-challenged, don't forget to bring your own fork if eating at these small, local eateries.
Cantonese cuisine of the Guangdong Province is considered by many (including me) as China's tastiest. In general, Cantonese dishes use spices modestly (not very spicy either) with an emphasis on using the freshest ingredients possible to bring out the flavor the food. Steaming and stir-frying are the preferred method for many dishes.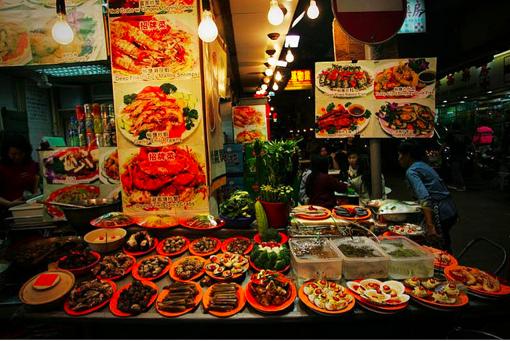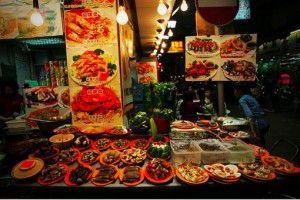 Being next to the ocean, seafood is featured prominently (usually still swimming in little tanks). It's also known for hot pot, preserved meats/seafood, and noodle dishes, especially noodle soups, like wonton or fish balls (I didn't even know fish had balls!). Cantonese chefs don't let anything go to waste; local delicacies include dishes like chicken feet and pig tongue. There's a famous saying of the Guangdong region that says, "We eat everything with four legs except the table, everything in the sky except an airplane, and everything with two legs except people." In fact, traditionally, the province served dog meat, though it has long been out of vogue and banned in Hong Kong (but still available in parts of mainland China).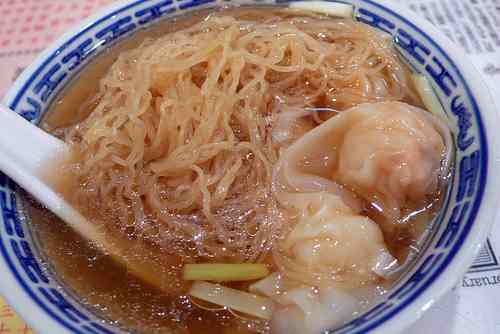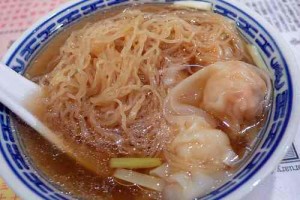 A typical Cantonese hole-in-the-wall restaurant will specialize in noodle soups or roast meats (like those whole ducks that you see hanging in the window). In the meat places, good bets are soy-sauce chicken, goose, roast pork, and suckling pig. When in doubt, you can always order a combination plate, served with an order of rice. Or just warm up your pointing finger.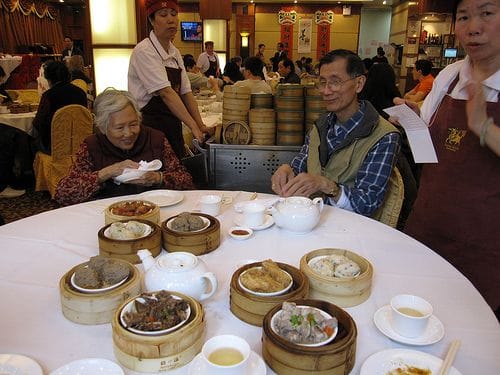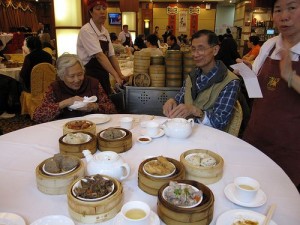 Cantonese's most famous signature food is dim sum. For the uninitiated, dim sum is a kind of noisy Chinese brunch tapas —comprised of various dumplings, steamed pork buns, seafood dishes, pastries, and other small snack-like dishes hidden under steaming bamboo baskets. Some dishes—like chicken feet—are decidedly un-Western (I still refuse to try it). But fret not, there'll be a new option coming by your table in about 15 seconds. Speaking of which, larger dim sum restaurants will have women wheeling around carts of various plates (just point, but don't get strong-armed into ordering anything you don't want); In smaller places you'll order from a menu card (harder to use the point-and-order technique).
If you're a strict vegetarian….then you better take a pass on dim sum. Dim sum (and Cantonese food in general) is a veritable minefield for vegetarians. So-called vegetable dumplings, for example, usually have at least some kind of minced meat or seafood mixed in. Even the actual vegetable-only dishes are often cooked in meat stock. Aside from self-catering at grocery stores and seeking out vegetarian restaurants, your best bet — if you want to sample the local Chinese food—is to look for more upscale (but pricier) Chinese restaurants, such as those in up-market hotels. Otherwise, there are decent vegetarian options in western restaurants (pizza, salads, etc) or even Indian and Pakistani restaurants.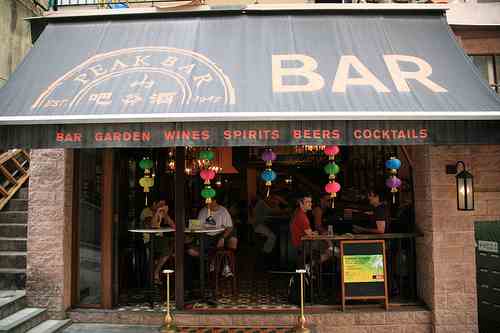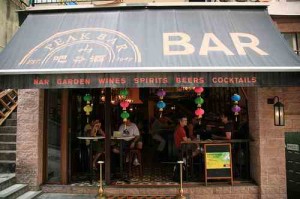 If Chinese food isn't your cup of tea, Hong Kong will be your favorite food city in China. With the large expat population and international travelers, Hong Kong also serves up China's most diverse range of International cuisines: from sushi and Asian fusion to gourmet burgers and organic vegetarian fare to Indian curries….and just about everything in between. Fine diners will also have nothing to complain about—HK has more than its share of fine dining. Many of these top places are attached to either 5-star hotels and upscale shopping malls.
Cost-wise, eating out in Hong Kong's restaurants is similar in price to Shanghai and Beijing, though cheaper than in top international cities like London, Tokyo, or New York City. But for an expensive city, budget travelers will be happy to hear that they can eat well without blowing the budget. Besides the hole-in-the-wall places, HK is full of more upscale places that offer great value during lunch, as well as buffets.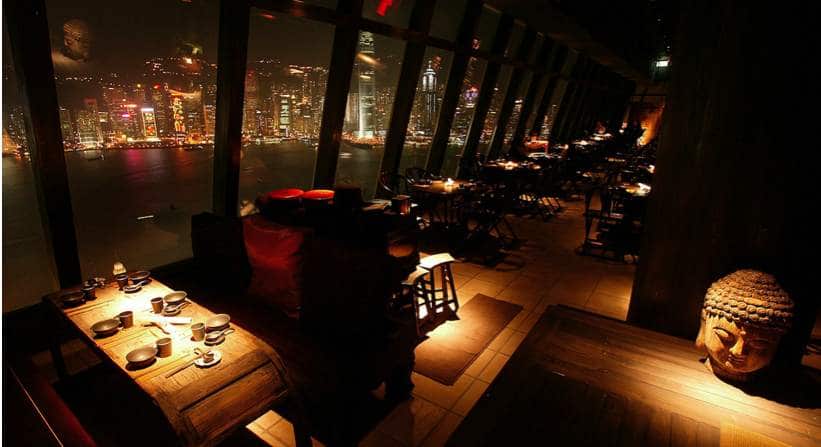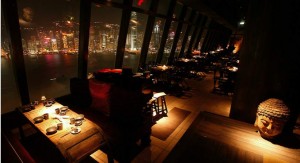 Hong Kong Island's main concentrations of restaurants are in Central (IFC Mall and Pacific Place both have a good selection under one roof), trendy SoHo (South of Hollywood) and nearby Lan Kwai Fong, as well as the seedier Wan Chai (better selection of other Asian cuisines like Thai and Indian). Near Wan Chai in Causeway Bay, head to the Times Square shopping center.
Across the harbor, Kowloon is no slouch either, cuisine-wise. In Tsim Sha Tsui for example, there are plenty of food options scattered about—check out both Ashley Road and Lock Road in TST. Kowloon's restaurants are mostly found in hotels and shopping malls on, or close to, Nathan Road, the main drag. On a pleasant night, look for Knutsford Terrace for many alfresco dining options.


China Mike's list of Hong Kong's best restaurants (as rated & reviewed by the major travel guides):



View China Mike's Hong Kong map in a larger map


[ NOTE: Open Google Map in another window to view all locations in left menu ]


BEST HONG KONG ISLAND RESTAURANTS

CHINESE:
Lung King Heen $$$ (Fodor's Choice) (2010 Michelin Guide: three stars)
3196-8880
Podium 4, Four Seasons Hotel, 8 Finance St., Central, Hong Kong
www.fourseasons.com
Cantonese
The only Asian restaurant awarded 3 Michelin stars in 2010. Fodor's: "It's made a serious case for being the best Cantonese restaurant in Hong Kong—and consequently, the world….When you try a little lobster-and-scallop dumpling, or a dish of house-made XO sauce that is this divine, you will be forced to reevaluate your entire conception of Chinese cuisine."
Fook Lam Moon (2010 Michelin Guide: two stars)
(852) 2866-0663
35-45 Johnston Road, Wanchai (also see below Kowloon location)
www.fooklammoon-grp.com
Cantonese
Manor Seafood (Time Out HK's "Best dim sum" 2010)
440 Jaffe Rd, Causeway Bay
2836 9999
Meal for two: around HK$200
Time Out HK: "While many may be familiar with Manor's roasted-to-perfection suckling pig and other dinner items, few know about their exquisite dim sum menu. Currently available only at the Causeway Bay branch…find steamed rolls of shredded chicken and enoki mushrooms in a crystal-like translucent wrapper, or pancakes stuffed with minced pork and black eyed peas. During hairy crab season, they also have pan-fried pot-stickers filled with pork and creamy crab roe."
Ap Lei Chau Municipal Services Building (Time Out HK's "2010 Best Cheap Eats")
8 Hung Shing St, Ap Lei Chau, Hong Kong Island
Seafood
Time Out HK: "Why choose just one restaurant when you can choose a whole building?…Located in the heart of a traditional fishing village, the Ap Lei Chau Municipal Services Building promises some of the city's freshest seafood, without the tourist trap prices. The drill is to first hit up the wet market on the ground floor, which sells myriad types of freshly caught seafood at market prices. Buy your prey of choice from the fishmongers then head up one floor to the cooked food centre. Any of the dai pai dong style eateries on this upper level will be happy to whip up the seafood you bring in for a nominal cooking service charge. Try to envision HK$20-$40 for big plates of steamed scallops topped with vermicelli and minced garlic, or meaty mantis shrimp stir-fried in spicy salt. Our favourites in the building are Yiu Kee (2553 1938) and Chu Kee (2555 2052)."
Mak's Noodle
2854-3810
77 Wellington Street, Central
Dishes HK$25-50
11am-8pm
L. Planet: "The wonton soup noodles (a major hangover cure) and beef brisket noodles have been drawing in patrons to this low-key place for decades."

Lung Moon Restaurant
2527-2343
Ground floor, 130-136 Johnson Road, Wan Chai
Dishes HK$35-60
11am-4am
Family restaurant with tasty Shanghai cuisines like dumplings. L. Planet:: "Unassuming, family-run joint serves great Shanghai staples, including dumplings, hot-and-sour soup….and aubergine fried with garlic."

Yung Lee
2522-1624
32-40 Wellington St, Central
Dishes HK$55-150
11am-11:30pm
LP: "Central's most famous Cantonese restaurant…roast goose and dim sum are the signature dishes, though everything in the phonebook of a menu is pretty good." Dim sum from 2pm-5:30pm Mon-Sat; 11:30-5:30 Sundays.

Luk Yu Tea House (Frommer's "Best Dim Sum Experience")
2523-5464
24-26 Stanley Road, Central
Mains HK$100-350
7am-10pm
A HK classic with old school décor and excellent dim sum (7am-5pm). Frommer's: "It's hard to find an empty seat here but worth the effort."

City Hall Maxim's Palace (L.Planet top pick) (New York Times Pick)
2521-1303
3rd floor, Lower Block, HK City Hall, 1 Edinburg Place
Dim sum per person about HK$100
M-Sat 11am-3pm & 5:30-11:30pm / Sunday 9am-11:30pm
Popular with the locals, this is also highly regarded as the place to go for an authentic dim sum experience. LP: "This is the full dim sum experience, in a huge kitschy hall with hundreds of locals, fantastic food and fine harbour views."

Hu Ju
2869-6927
68 Peel Street, Central
About HK$250/meal
6pm-midnight
LP: "Delicious, chilli-packed Sichuan dishes in a delightful Chinese setting that makes you feel like you're dining in one of the neighborhood's antique shops"

Sichuan Cuisine Da Ping Hui
2559-1317
Lower ground floor, 49 Hollywood Rd, Central
About HK$250/meal
LP: "Serves fiery set meals (such as chicken and peanuts in sweet chilli) in sleek surroundings, after which the owner-chef emerges to sing Chinese Opera. Book ahead."


OTHER ASIAN:
Sushi Sase (Time Out HK's "Best Japanese Restaurant" 2010)
UG/F, Hilltop Plaza, 49 Hollywood Rd, Central
2815 0455
Meal for two: around HK$3,000
Time Out HK: "We're convinced that Sushi Sase is the best Japanese restaurant in town. Decked out in natural woods with a serene, Zen-like vibe, the restaurant provides a dining experience that mirrors that found in Japan. But don't expect tempura or robatayaki here. In true authentic fashion the chefs focus instead on their main area of expertise: amazingly fresh sushi and sashimi made with ingredients flown in daily from Japan. To experience the best that the restaurant has to offer, grab a table at the sushi bar and order the omakase prepared by award-winning executive chef Satoshi Sase."
Xi Yan Sweets
2833-6299
8 Wing Fung Street, Wan Chai
Dishes HK$20-130
Noon-11pm
New Asian fusion restaurant opened by a local TV chef. LP: "Oddly successful fusion of Asian savoury dishes (shrimp and pomelo salad, osmanthus-smoked duck eggs, Sichuan hot-and-spicy beef)"

Nha Trang
2581-9992
88 Wellington Street, Central
Mains HK$35-65
Noon-11pm
LP: "The regular Vietnamese diners in this stylish restaurant are testament to the quality and price of the food"

Wing Wah Lane
Thai, Malay, Indian outdoor eateries (including Good Luck Thai)
13 Wing Wah Lane, Central


WESTERN:
Caprice $$$$ (2010 Michelin guide: three stars)
8 Finance Street, Central (in Four Seasons Hotel)
(852) 3196-8888
French
www.fourseasons.com/hongkong/dining/caprice/
From restaurant website: "The only French restaurant in Hong Kong to receive three prestigious Michelin stars, Caprice is led by Chef Vincent Thierry. Together with his team of 25 chefs, Thierry creates innovative menus with dishes that are light and refreshing, yet rich in taste and flavour."
Amber $$$-$$$$ (2010 Michelin guide: two stars) (Time Out HK's "2010 Restaurant of the Year")
15 Queen's Road Central, Central (inside The Landmark Mandarin Oriental hotel)
852 2132 0066
Meal for two: around $2,000HK
www.amberhongkong.com/
French
Time Out HK: "Sophistication, attention to detail, and just downright amazing cuisine…While Hong Kong has no shortage of brilliant restaurants, Amber stands out with its consistently impressive level of culinary creativity and commitment to quality….the dishes that grace the dining room tables never fail to inspire and excite….And on the restaurant floor, you're guaranteed the type of top-notch service that makes first-time visitors feel like instant regulars. Ladies and gents, this is it – say hello to the best dining experience you'll find in the city."
Lily & Bloom (Time Out HK's "Best New Restaurant" 2010)
5/F & 6/F, LKF Tower, 33 Wyndham St, Central
2810-6166
Meal for two: around HK$1,000
wwww.lily-bloom.com
Time Out HK: "Lily & Bloom is a lean, mean wine and dining machine. The bi-level bar and restaurant takes inspiration from the secret speakeasies and gentlemen's clubs that thrived in early 19th century Europe and America. Think cast iron details, plush leather banquettes, dark woods, dim lighting and an atmosphere that oozes old-school cool….the Iberico pork chop with smoked ribs is easily one of the best dishes we've had so far this year."
Paisano's (Time Out HK's "Best Pizza" 2010)
9 Lyndhurst Terrace, Central (2544-4445)
27 Chan Man St, Sai Kung (2791 4445)
www.paisanos.com.hk
Time Out HK: "24-inch pizzas… No, you're not dreaming. Paisano's does the biggest pizzas in the city, NYC-style with a billowy, flour-dusted crust, generous toppings and, most importantly, a whole lodda' cheese… If you're in a hurry (or just want a snack) you can grab a huge slice of margherita and an ice cold beer for HK$50."
Naturo +
2865-0388
6 Sun Street, Wan Chai
Snacks from HK$35
9am-6pm
LP: "Small range of snacks and sandwiches plus wonderful Tibetan yak cheesecake and outdoor setting in a leafy, secluded Wan Chai haven"

Duke's Burgers
2526-7062
5 Staunton Street, SoHo
Mains from HK$100
Noon-10pm
LP: "Does very posh (burgers) with Wagyu beef and foie gras, for example."

Pawn (New York Times Pick)
2866-3444
62 Johnson Road, Wan Chai
mains HK$175-250
11am- late
LP: "Occupying an old colonial building…serves accomplished modern British pub grub such as fish & chips, ham hocks…. and great list of wines…book ahead."

Top Deck at the Jumbo (Frommer's "Best Place to Chill Out")
2553-9111
Shum Wan Peir Drive, Wong Chuk Hang, Aberdeen
Meals from HK$250/person
Mon-Sat: 10:30am-11:30pm / Sundays 7:30am-11:30pm
A long time tourist draw, it's the larger of the 2 floating restaurants off the Aberdeen Harbor. Serving pretty good seafood, the main draw is the great setting (go to Top Deck upstairs, not old restaurant). Frommer's: "great seafood, comfy sofa seating, and alfresco dining with views of surrounding Aberdeen."

Petrus $$$$ (Frommer's "Best Spot for Romantic Dinner") (2010 Michelin Guide: two stars)
852/2820-8590
Island Shangri-La Hotel, Supreme Court Road, Central
www.shangri-la.com/en/property/hongkong/islandshangrila/dining/restaurant/restaurantpetrus
A two-star rating, Michelin Guide (Hong Kong & Macau), 2010
Fine French cuisine. Frommer's: "views of Hong Kong's fabled harbor from its 56th-floor perch, live piano music, and one of Hong Kong's best wine lists…sets the mood for a special evening à deux."

Peak Lookout (Frommer's "Best Outdoor Dining") (New York Times Pick)
852/2849-1000
121 Peak Rd., Victoria Peak
www.thepeaklookout.com.hk
Main courses HK$140-290
International cuisine. Frommer's "From an outdoor terrace surrounded by lush foliage, you can actually hear the birds sing. Some tables provide views of Hong Kong Island's southern coast. Musicians entertain nightly with oldies but goldies." NYT: "Known as much for its views as for its food. Book a table outdoors, with a view of the southern side of the island, and start with the giant combination platter: Thai spring roll, fried soft-shell crab, salmon on Indian nan bread, Mexican chicken quesadillas. That will give you an idea of this charming restaurant's international menu (there are hamburgers and sushi, too)."

Cinecittà $$$ (Fodor's Choice)
2529-0199
9 Star St., Wan Chai, Hong Kong
www.elite-concepts.com
Italian
Fodor's: "Theme is Italia cinema, centered on Fellini and his works…Pastas are homemade and are excellent. Come to admire the fashionistas, show off your glad rags, or just to focus on the fabulous food."

H One $$$-$$$$ (Fodor's Choice)
2805-0638
Shop 4008-10, podium level 4, IFC Mall, 8 Finance St., Central
Eclectic cuisine
Fodor's: "This chic restaurant combines great harbor views with an eclectic menu offering everything from oysters to Mediterranean, Indian, and Thai dishes. Surprisingly, the team of chefs here manages to pull off the ambitious menu with great skill, aided by the friendly staff…. The charcoal-grilled sirloin is done to perfection and one of the best in town."

L'Atelier de Joël Robuchon $$$$ (Fodor's Choice) (2010 Michelin Guide: two stars)
2166-9000
Shop 315 (salon) & 401(restaurant), The Landmark, 15 Queen's Rd., Central
www.robuchon.hk
French
Fodor's: "Robuchon (who has 18 Michelin stars under his belt) is one of the best celebrity chefs to have opened shop in Hong Kong in the past two years…though his creations do come at an astronomical price….For those who do not want to splurge on a full meal, try the superb croissants, cakes, and coffee at the tea salon one floor down from the restaurant."


MIDDLE EASTERN:
La Kasbah
2525-9493
Basement, 17 Hollywood Road, Central
Mains HK$100-155
Mon-Sat: 6:30-11:30pm
Good North African dishes. LP: "wonderfully escapist underground setting."

VEGETARIAN:
Life (Frommer's "Best Vegetarian")
2810-9777
10 Shelly Street, Central
Mains HK$60-110
10am-midnight
A 3 floor affair, it's the place to go for vegan and dishes free of gluten, wheat, onion and garlic. Frommer's: "A lifesaver for those in search of organic, vegetarian fare, including salads, quiche, noodle and pasta dishes, daily specials, and power drinks."

Fringe Club
2521-7251
2nd floor, Dairy Farm Building, 2 Lower Albert Rd, Central
Set lunches HK$76-98
Mon-Friday Noon-2pm
LP: "Apart from entertainment, the Fringe serves a popular vegetaria lunchtime buffet upstairs." Additional roof terrace seating.

SELF-CATERING:
ThreeSixty Store
2111-4480
The Landmark, Central
Mon-Sat 8am-7:30pm
A tad pricey natural food store, but great selection of organic food.
City'super
2234-7128
1st floor, IFC Mall, 8 Finance Street, Central
10:30am-9:30pm
Gourmet supermarket with lots of ready-to-eat foods.
City'super
3rd Floor, Gateway Arcade, 25-27 Canton Road, Harbour City, Tsim Sha Tsui, Kowloon
10am-10:30pm


BEST KOWLOON RESTAURANTS
CHINESE:
T'ang Court $$$-$$$$ (2010 Michelin Guide: two stars)
8 Peking Road, Tsim Sha Tsui (inside The Langham Hotel)
852/ 2375-1133
hongkong.langhamhotels.com/restaurants/tang_court.htm
Cantonese

Ming Court (2010 Michelin Guide: two stars)
555 Shanghai Street, Mongkok (inside Langham Place hotel)
852/ 3552-3300
hongkong.langhamplacehotels.com/restaurants/ming_court.htm
Cantonese
Fook Lam Moon (2010 Michelin Guide: one star)
(852) 2366-0286
53-59 Kimberley Road, Tsim Sha Tsui (see above location in HK island)
www.fooklammoon-grp.com
Cantonese
Yan Toh Heen (Fodor's Choice) $$$$
2313-2243
Lower level, Hotel InterContinental Hong Kong, 18 Salisbury Rd., Tsim Sha Tsui
hongkong-ic.intercontinental.com
Cantonese
Fodor's: "Sets formal elegance against expansive harbor views, and its food is at the top of its class in town…exquisite…equally successful are dim sum, sautéed Wagyu beef with mushrooms and shishito pepper and exemplary braised whole abalone in oyster sauce…vast selection of seafood."

Happy Garden Noodle & Congee Kitchen
2377-2604
72 Canton Road, Tsim Sha Tsui
Rice & noodle dishes HK$20-110
LP: "Top budget operation hs scores of rice, noodle & congee dishes to choose from, including shrimp wonton noodles."

Wu Kong Shanghai Restaurant
2366-7244
Basement, Alpha House, 27-33 Nathan Road, Tsim Sha Tsui
Mains HK$60-280
11:30am-midnight
LP: "Long-running place is known for its cold pigeon in wine sauce and crispy fried eels, but also serves dim sum and a vast array of other dishes."

Spring Deer
2366-4012
1st floor, 42 Mody Road, Tsim Sha Tsui
Meals from HK$200/person
Noon-3pm & 6-11pm
LP : "Hong Kong's most famous Peking Duck is served here (HK$280 for whole bird)…but service can be about as welcoming as a Beijing winter."

Hutong $$$-$$$$ (Frommer's "Best Chinese Hot Spot") (Fodor's Choice) (2010 Michelin Guide: one star)
Meals from HK$500+/person
3428-8342
28/F, 1 Peking Road, Tsim Sha Tsui
www.aqua.com.hk
Main dishes HK$130-350
Good modern Chinese food with panoramic views. Frommer's: "As hip as a Chinese restaurant can be, with fantastic views over Hong Kong…and innovative northern Chinese cuisine." Fodor's: "Has some of the most imaginative food in town, yet it's completely Chinese…Best among a sensational selection of northern Chinese creations are crispy, deboned lamb ribs…If you have just one meal in Hong Kong, make certain it's here."

Ko Lau Wan Hotpot and Seafood Restaurant (Fodor's Choice) $$
3520-3800
1st fl., Vincent Commercial Building, 21-23 Hillwood Rd., Tsim Sha Tsui, Kowloon,
www.hotpotexpress.com
6pm-3am daily
Fodor's: "Those seeking authentic Cantonese hotpot need not look further. Locals flock here for the tender beef and a wide selection of seafood… The adventurous should try the geoduck, a giant clam, popular among Hong Kongers, which can be eaten raw with soy sauce and wasabi or slightly cooked in a soup."

WESTERN:
SPOON by Alain Ducasse (Frommer's "Best Wine List") $$$-$$$$
852/2721-1211
Intercontinental HK Hotel, 18 Salisbury Rd., Tsim Sha Tsui
Fine French [http://hongkong-ic.dining.intercontinental.com/honic/spoon.html]
Frommer's: "Offer great harbor views, excellent contemporary French cuisine, and impeccable service..also boasts a selection of 3,000 bottles of wine."
The Steak House Winebar + Grill (Time Out HK's "Best Steak" 2010)
LG/F, InterContinental Hong Kong, 18 Salisbury Rd, Tsim Sha Tsui
2313-2323
Time Out HK: "The Steakhouse at the InterCon has always been one of the best in the city. Carnivores are spoiled silly with the choice of cuts, choice of condiments and heck, even the choice of knives. They've recently upped the ante by installing a cutom-built dry-ageing cabinet and adding a rotating selection of in-house dry-aged steaks to their menu."
BLT Burger (Time Out HK's "Best Burger" 2010)
2730-2338
Shop 301, 3/F, Ocean Terminal, Harbour City, 17 Canton Rd, Tsim Sha Tsui
Meal for two: around HK$250
Time Out HK: "Despite chef Laurent Tourondel's international celebrity status, he's kept the menu humble, emulating casual diner joints of 1950s America. Expect some scarily good meat here; the burger patties are made with 100 per cent certified Black Angus beef, lovingly grilled to a juicy medium-doneness…And if the hefty burger wasn't enough of a good thing already, you've still got fries, onion rings… and did we mention milkshakes?"
INDIAN:
Gaylord
2376-1001
1st floor, Ashley Centre, 23-25 Ashley Road, Tsim Sha Tsui
Mains HK$55-140 / lunch buffets HK$88
Noon-3pm & 6-11pm
LP: "Classy service and live Indian music every night complement the excellent rogan josh, dhal, and plenty of vegetarian choices in HK's oldest veggie restaurant."

Chungking Mansions (bottom floors of building)
Lots of cheap Indian and Pakistani eateries in this Kowloon old building (famous for cheapo hotels).
36-44 Nathan Road, Tsim Sha Tsui

OTHER ASIAN:
Sushi One
2155-0633
23 Ashley Road, Tsim Sha Tsui
Meals HK$75-200
Noon-midnight
LP: "Trendy sushi place with a mesmerizing fish-wall tank"

Yagura (L.Planet top pick)
2710-1010
Eaton Hotel, 380 Nathan Road, Kowloon
Noon-3pm & 6pm-midnight
LP: "terrific Japanese food covering most bases, including sushi, tempura, and yakitori at pretty sensible prices. Try the grilled live scallops."

NOBU InterContinental Hong Kong (Frommer's "Best Fusion" and Best for "Taking High Tea at Posh Hotel" along with Peninsula HK Hotel) $$$-$$$$
852/2313-2323 // [http://hongkong-ic.dining.intercontinental.com/honic/index.shtml]
Intercontinental HK Hotel, 18 Salisbury Rd., Tsim Sha Tsui
Frommer's: "Outstanding Japanese/American/Latin-influenced dishes, great interior design, and fabulous harbor views."
MIDDLE EASTERN:
Merhaba
2367-2263
12 Knutsford Terrace, Tsim Sha Tsui
Mains HK$100-180
Mon-Sat: 4pm-2am / Sundays 4pm-1am
LP: "One of few restaurants on ultracompetitive Knutsford Terrace that is always busy." Happy hour all night on Sundays.

VEGETARIAN:
Branto Pure Vegetarian Indian Food
2366-8171
1st floor, 9 Lock Road, Tsim Sha Tsui
Dishes HK$30-60
11am-3pm & 6-11pm
LP: "This cheap but excellent place serves South Indian dishes…try the dosa with dipping sauces."

SELF-CATERING:
Wellcome supermarket
2369-6451
28 Hankow Road, Tsim Sha Tsui
8am-10pm
Kowloon branch of a decent sized, pretty good supermarket chain.


BEST HONG KONG OUTLYING ISLANDS RESTAURANTS
Bookworm Café
2982-4838
79 Main Street, Yung Shue Wan, Lamma
Breakfasts HK$25-60 / Dishes 50-90
Sunday-Fridays 9am-9pm/ Sat 9am-10pm
LP: "Long-running vegetarian café-restaurant serves fantastic fruit juices, organic wine among other fair food….free wifi."

Hometown Teahouse
2981-5038
12 Tung Wan Road, Cheung Chau
Noon-11pm
LP: "Wonderfully relaxed place run by an amiable Japanese couple serves lunch and dinner, but the afternoon tea—sushi, pancake, tea) is what you should come for."

Stoep Restaurant
2980-2699
32 Lower Cheung Sha Village, Lantau
Mains HK$55-150 / BBQ HK$90-170
Tuesdays-Sundays 11am-10pm
LP: "Right on quiet Lower Cheung Sha Beach….serves up meat, fish and South African braai (BBQ) and a chilled atmosphere."

Blue Bird
24 Main Street, Yung Shue Wan, Lamma
Set meals from HK$65
LP: "Creditable sushi and other Japanese dishes here are a surprisingly good value (in otherwise expensive Lamma)"
Return from Best HK Restaurants to Hong Kong Guide