When traveling to China, people often are curious as to whether they should travel to Guilin and/or Yangshuo! In this article I talk about my experiences when traveling to both locations and what you can do while there.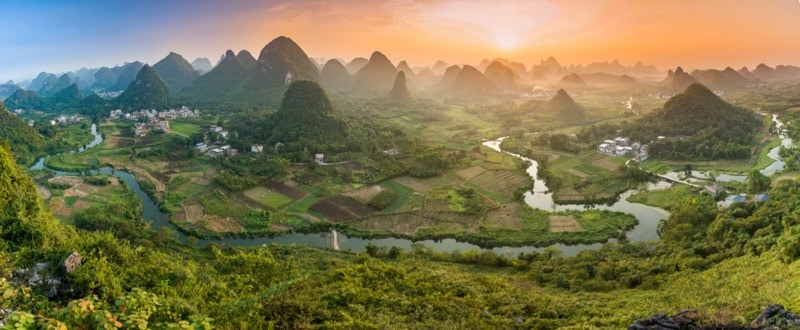 Guilin has the good fortune being located in one of China's most beautiful landscapes. Surrounded by stunning karst peaks that dramatically jut up from the ground, the city is a popular Chinese tourist destination (but somewhat underrated in guidebooks).
Formed some 200 million years ago when the area was below sea level, the jagged green hills give Guilin a hypnotic, otherworldly vibe.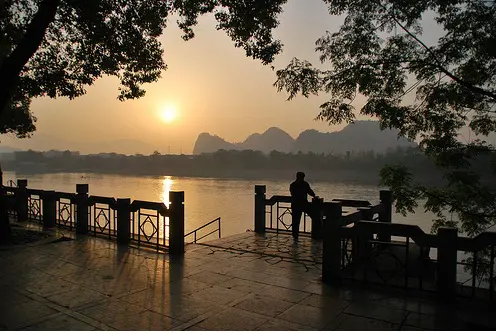 Staying true to modern Chinese construction, Guilin's architecture— rebuilt in the functional style popular in 1950s after Japanese bombing—is rather colorless. But the city has some worthy natural monuments and about 10 pleasant parks featuring the striking peaks and limestone caves.
But to me, the city alone isn't attractive enough to warrant a strong recommendation as a tourist destination.
Instead, Guilin's main attraction is its position as the starting point for a cruise down the Li River to the (once) sleepy, backpacker town of Yangshuo.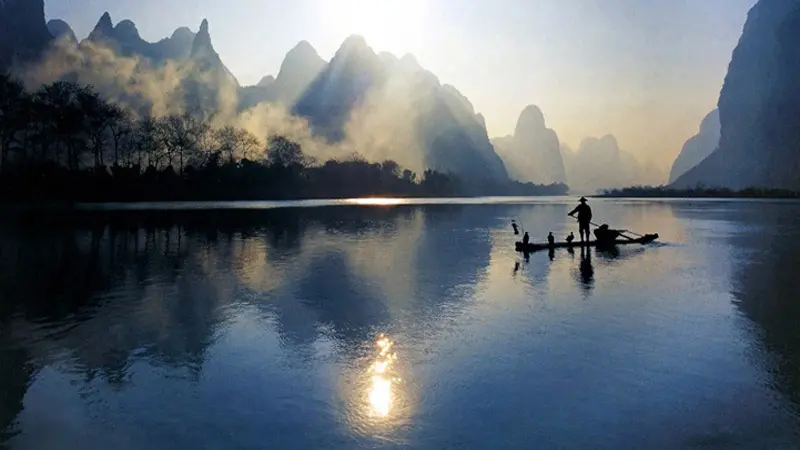 In fact, the Li River cruise is the highlight of trip to China for some travelers. If I had to choose one, I'd recommend the Li River cruise over the one down the Yangtze River (especially after the Three Gorges Dam turned the once narrow, rapid river into a large, placid lake).
A photographer's dream, the cruise down the shallow green water passes through a never-ending procession of gorgeous karst peaks that the elements have carved into all kinds of bizarre shapes.
And in between, you'll pass by landscape straight out of Chinese scroll painting: rural scenes of fishermen on narrow bamboo raft and farmers in conical hats working the fields with water buffalo.
Although no longer the unspoiled mellow town of past decades, Yangshuo is still a strongly recommended and very worthy destination. Today, the small town offers a wide range of trendy souvenir shops, bars, cafes, and restaurants catering to western and Asian tourists.
These days you can find anything from reggae to hip hop and pizza to pad thai noodles. The best times to visit are spring and fall (long summers tend hot and humid, winters tend to be wet).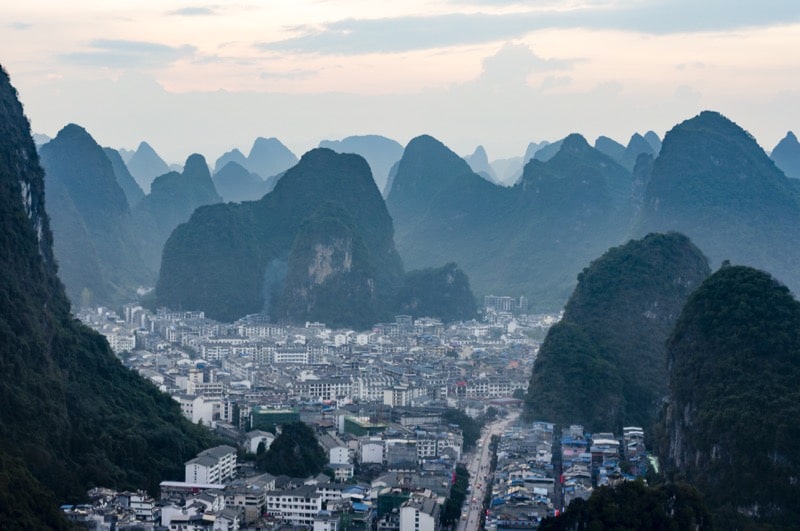 More Info & History
Literally translating as "cassia tree forest," Guilin dates way back around 214BC, during reign of Qin Shi Huang, the first emperor of a united China. But pretty much all of the old city was bombed beyond recognition during the Japanese occupation in the 1940's (a job made much more difficult because of the region's thick fog and numerous caves that served as hiding places).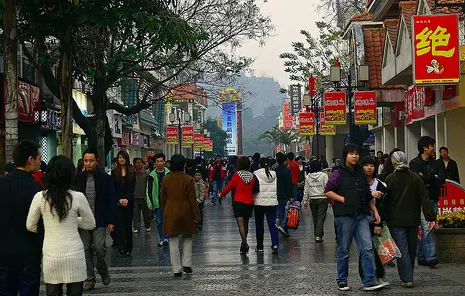 Guilin got a major facelift in the 1990s when local officials started to realize the appeal of the city as a tourist destination. Today, the city of 1.3 million has a well-developed tourist infrastructure as well as a pleasant promenade and city center for a nice stroll.
But as a popular tourist destination, Guilin does attract the hard-sell hawkers along with flat-out scam artists so be wary of anyone who approaches you on the street.
Li River Cruise
Almost all of the cruises down the Li River leave in the morning from Zhujiang pier, a 45-minute drive from Guilin. Your best bet is to shop around a bit and book through your hotel/hostel or a travel agency.
The cruises are almost all one-way (best to take a 2-hour bus back instead of the long journey upstream). For budget travelers, the cheapest fares will be on an old ferry and run around Y250. But otherwise, expect to pay about Y400-500, which will include a ride to the pier as well as lunch. Depending on the water level, the cruise takes anywhere from 4-6 hours to make the 40-mile (60km) journey south to Yangshuo.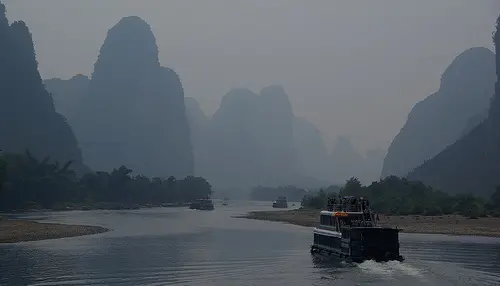 Yangshuo
This is a small rural town with population of just over 30,000 that has become the province's premier tourist destination. It does tend to get crowded with tourists, especially during the summer high tourist season.
But luckily, the main attractions are the natural sights and trails outside town. You can easily spend days here leisurely biking and exploring the area.
Or if you want something more exciting, Yangshuo is also a popular destination for rock climbing (check out the "White Mountain") and exploring caves. [Note: 2009 editions of guide books feature a hot air balloon ride in Yangshuo. Unfortunately, that operation was shut down after four Dutch tourists died in a mid-air explosion in 2009.
Another upside to the town's popularity is that there's a big supply of accommodation– you can find cheap, shared dorms for as low as Y15/night (as well as a lot of mid-market options). Lots of competition is also good news for travelers who need a change from Chinese food as well as shoppers looking for quirky t-shirts and other unique souvenirs that are hard to find anywhere else in China.
There are a ton of hotels in Yangshuo, ranging from cheap hostels to upscale hotels (book ahead on weekends and peak times). This last trip, I stayed at Rockabond Inn, recently renovated under new ownership (budget mid-range hotel).  Located next to the police station just off the main action, it's a clean and quiet place. Great service too (didn't charge me any extra commission for tickets, tours, etc). If you're into rock climbing, you're in luck: the owners, Ting and Abond, are both avid climbers as well as all-around nice, cool folks (fluent English speakers too). Since Abond climbs almost every day, you can tag along or he can at least show you the best places to get your climb on.
www.yanbanginn.com
0773-8822325/ Ting's mobile: 13471398460