Are you traveling to Hong Kong soon? Checkout this detailed Hong Kong Travel Guide that we have put together! A visit to Hong Kong is the perfect balance of east and west coming together.
Visit Hong Kong if you are craving an unforgettable adventure. Discover the best hotels, restaurants, and things to do with this highly curated Hong Kong Travel Guide.
Overview of the city of Hong Kong
The Hong Kong Tourism Board describes the city as
"a kaleidoscope of life, a sophisticated fusion of East and West, a city of diversity where new and old meet at every turn."
For the first-time visitor to China, Hong Kong is a good starting place to ease into your culture shock. Flying into the sleek Chek Lap Kok Airport or walking down Hong Kong's modern urban landscape, you'll find a comfortable First-world familiarity as you fight through your jet lag. And with a large English speaking population and a convenient transportation infrastructure, it's the perfect city to gradually expand your comfort zones.
Alternately, Hong Kong is also a good place to finish your voyage. The city's conveniences and sophistication are a welcome change of pace—a cleansing breath of fresh air (well, not literally).
Best Times to Visit Hong Kong
When it comes to the climate and weather in Hong Kong, you'll find that it has a monsoon-influenced subtropical climate. It is mild for more than half the year. There are mild, relatively dry winters and hot, humid, wet summers.
The warmest times start from late May to mid-September, where as The coolest times are from mid-December to February.
If you are able to, avoid traveling during the long summer (June-Sept), which is notoriously hot & sticky (and also typhoon season). The best times to visit for tourists are between October and December, followed by late winter (Jan-March). For more details on HK peak travel seasons, see Hong Kong FAQ below.
Key Tip to getting around Hong Kong
As soon as you set foot in Hong Kong, get a rechargeable Octopus Card, which you can use on any public transportation, such as the MTR (mass transit railway) subway, including the Star Ferry, outlying island ferries, buses, the Peak Tram to Victoria Peak (as well as in many convenience stores, fast food, supermarkets and other retail outlets).
With this, you'll save tons of time by avoiding queues to buy single-tickets each time you take the subway. Get the HK $150 Octopus card (HK $100 stored value, plus refundable HK $50 deposit when you return it). If you're only in town for a couple of days, a good option is the Tourist Day Pass (HK$55), which gives you one day of unlimited travel on MTR and Light Rail (excluding the Airport Express and other destinations).
Hiking Around Hong Kong
Hong Kong offers some incredible scenery and hiking paths if you're willing to search for them.
Below is a map of my favorite spots to hike around Hong Kong.
The History of Hong Kong
Hong Kong was just an unassuming fishing village tucked away in the Guangdong province until British opium merchants moved in and set up shop in the 1700s. Like smart drug dealers with a monopoly on a highly addictive product, they first created a market with cheap India-imported opium (even though opium was declared illegal). Once their customers were hooked, they jacked up prices and got fabulously rich.
Fast forward: 1997. Hong Kong was anti-climactically returned to China under a "one country, two systems" agreement, whereby HK would pretty much operate autonomously for the next 50 years.
But Hong Kong's days as the economic top dog are numbered. Almost all of HK's factories and manufacturing have migrated over the border to the super-cheap labor of Mainland China. And China's leaders have tapped Shanghai as the country's new financial center, with the stated goal of transforming the city into a major global financial center by 2020.
Hong Kong & Kowloon Hotels & Reviews | Budget Guest Houses to Luxury Hotels
There's no getting around it: staying in Hong Kong is expensive. Accommodation will eat up the biggest chunk of your travel budget. Of course, that's to be expected in an international city where rents are comparable to those of New York City or London. Travelers coming from the mainland often experience hotel sticker shock, even those coming from Beijing and Shanghai. The first time I visited HK, I showed up during the high-season without a reservation, a guidebook, or clue. I flew in from southern India, where I spent 6 weeks mostly staying in cheap guesthouses. Eventually I found an overpriced place and left for the mainland 2 days later.
But depending on the time of year (and your tolerance for staying in grubby Guantanamo Bay-like prison cell rooms), budget travelers can get away with spending less than you might think (especially if armed with more info than I had during my first clueless trip).
Things to Know
About 25 years ago, Hong Kong had about 18,000 hotel rooms. Today, that number has mushroomed and will continue to grow (current occupancy rate is over 85%). With this huge supply of rooms, travelers can find a ton of choices, ranging from super-phat 5 star luxury hotels to super-crappy budget rooms.
HK's two biggest markets: are Business travelers and Chinese tourists.
With so many more rooms, you'd expect prices to go down or at least stabilize. Well, you'd be wrong. Supply has barely kept up with demand, driven mainly by (1) business travelers and the many conventions and trade shows that come through HK, and (2) the increased wealth of mainland Chinese and relaxed visa regulations, opening the flood gates of photo-snap-happy Chinese tourists.
Regardless of when you come to Hong Kong, it's a good idea to book well in advance, especially during the high season. Not surprisingly, Hong Kong's high tourist seasons coincide with the times when the area gets a break from their legendary hot & humid weather.
Where to Stay?
Most Hong Kong visitors to will either stay on Hong Kong island's downtown area (northern end), or directly across the harbor in Kowloon, where in general, you get a better value. Regardless of where you stay, it's key to find a hotel that's at least somewhat close to a MTR (subway) station.
If you're planning on doing any late night drinking or partying on Hong Kong island (where the main action is), you're better off staying on HK island. Otherwise you'll be stranded without any way to cross the harbor since the MTR shuts down at 1am at the latest.
As expected, the prime real estate are the hotels in HK and Kowloon with harbor views. These include big time brand names like The Four Season, the Peninsula, Grand Hyatt, and the Intercontinental. Some of the newer luxury hotels have been resigned to build farther inland.
Competition is fierce for the very high-end luxury travelers—offering everything from insanely luxurious spas to Michelin star restaurants to rooftop helicopter service. Rooms at five-star international hotel chains—such as those above, as well as the Ritz Carlton, Shangri-La, Mandarin Oriental—will usually run you at least HK$3000 during the high season. Four-star hotels like the Crowne Plaza and Marriott, offer rooms starting around HK$2000.
For those looking for a less cookie-cutter experience, search out the many boutique hotels tucked away in different districts throughout area (mostly on Hong Kong island).
Budget Friendly Options
In the downtown city area of Hong Kong island, you're not going to find a lot in the way of hostels with dorm rooms. However, its worth checking out the Hong Kong Youth Hostel Association frequently to see if any good options become available for your travel dates.
Other than a hostel, your next best budget option on HK island is to head to Causeway Bay, where you can find the cheapest guesthouses on the island; they are more expensive (but in general more comfortable with amenities like free internet) than their counterparts in Kowloon.
Cheapest Rooms in Hong Kong
For super-budget travelers, Kowloon is the place to be. But again, the biggest downside is that you'll need to leave HK island by 1am at the very latest to catch the MRT back across the harbor. Specifically, the cheapest guesthouses are centralized in the legendary Chungking Mansions, a 14-story dilapidated old building filled with dozens of independently run guesthouses offering tiny rooms of varying levels of cleanliness and comfort.
Not far just north on Nathan Road, you'll also find the Mirador Mansion,offering similar accommodations. Tip: If you're staying in one of these "mansions", don't forget to pack a sleep sack (sleeping bag liner) and earplugs!
For a good up-to-date list on specific places you can stay & visit while in Hong Kong, check this page out. They've done a good job in breaking down the best places to stay in Hong Kong by budget and location.
Hong Kong Shopping Guide
I'll start this page with an admission: I'm not a big shopper. Especially when traveling (don't want to carry any extra stuff). So instead, I've researched all of the best websites and travel guides (just as I've done for the rest of this site). The result is my Hong Kong Shopping Guide, summarizing expert shoppers' take on the best of HK shopping. Enjoy!
And while I'm not a shopaholic, shopping is certainly the favorite activity of Hong Kongers, who are sometimes described as being too materialistic and enamored with brand names. To illustrate the point, most stores in Hong Kong only close three days a year (first two days of Chinese New Year and, a bit oddly, Christmas).
Because Hong Kong has no sales tax, and is also a duty-free port (most imported goods aren't taxed), it's long been a favorite shopping destination. In fact, some goods are sold cheaper than the countries in which they were originally made. The HK Tourism Board estimates that tourists spend more than 50% of their travel budget on shopping alone.
Bargain-hunting aside, serious shoppers love Hong Kong for the wide variety of goods and shopping destinations. With luxurious high-end malls located next to the chaos of open-air markets, shopaholics flock to Hong Kong for the thrill of the hunt and the sheer volume of retail space.
A note on bargaining: Don't bother trying to haggle in any shopping malls, department stores, or any other retail chains. But bargaining is expected and essential when shopping in HK's markets. In general, you'll should also try to haggle when shopping in smaller, independently owned shops. For more bargaining tips.
What to Buy in Hong Kong
From my research, the consensus is that clothing is still a good buy in Hong Kong. Although high-end designer clothes are priced about the same as most top cities around the world, you can still find great deals on clothes in HK—including fashions you won't find anywhere else in the world.
Other Hong Kong best buys include:
• Computer and electronics (cameras, etc)
• Watches
• Chinese handicrafts (like snuff bottles), antiques, art, tableware,
• Chinese herbs and high-end teas
• Gold jewelry, jade, pearls
• Luggage handbags, briefcases (and other leather goods)
• Furniture, carpets
• Cosmetics
• Eyeglasses
• Toys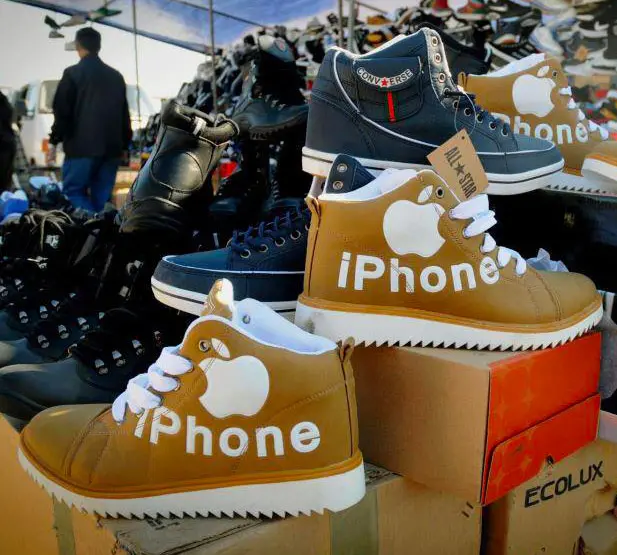 Real or Fake?
It should come as no surprise that you can still buy a lot of counterfeit brand stuff in Hong Kong (such as clothes, purses, watches, etc). If you're headed to mainland China (where of course most of it is manufactured), you should wait since you can buy it cheaper in China. But while HK authorities mostly turn a blind eye to counterfeiters, you still risk having your fake goods confiscated by Customs officials (and possibly risk a fine, although I understand it's rare unless you're sneaking in huge volumes of stuff for re-sale). On a related note, it's a good idea to keep your receipts (for genuine items) in case you need to show them to Customs.
Beware of the Old Bait & Switch
Although this isn't a widespread problem, you should be aware of the bait-and-switch scam. There are different variations, but here are the two most popular techniques, usually involving cameras and camcorders.
One trick involves luring customers in with a cheap advertised price: After you pay, they "realize" that it's out of stock and somehow strong-arm you into taking a (cheaper) "replacement" model (with so many models it's really hard to compare).
Another tactic is to replace the product you think you bought with a defective or cheaper product. In HK (and China), always make sure that they are wrapping up the actual product you bought. In general, you should wait until you have product in hand before paying.
In HK, these tricks are mostly common in the electronics/cameras stores on Nathan Road in Kowloon (best to avoid altogether). For more tips on Avoiding China Scams.
Hong Kong FAQ:
When is the best time to visit Hong Kong?
Let's start with the worst times to visit. The low tourist season is from about June to September, when Hong Kong's subtropical weather is its hottest and most humid. This period also sees a lot of rain….sometimes a LOT of rain since it's their typhoon season. The area is used to tropical cyclones and other dangerous weather: HK has a system of tropical cyclone warning signals that broadcasts warnings throughout the area. Signal number "10" is the worst, indicating hurricane force winds. Museums, shops and public transportation shut down at signal "8," which can also wreak a lot of damage.

Weather-wise, the best time to visit is from around October to November. The weather during this time is the best: dry, sunny days and comfortable nights. Temperatures hover around 70° to 78°F (21°-26°C), with relatively low humidity (under 70%). HK's other high tourist season is around March-April/early May. The weather in HK during the spring is a bit of a gamble—often alternating between cold/rainy days and sunny/mild ones. There's a good chance your views on Victoria Peak will be ruined by fog and/or rain. By May, temperatures start to climb and increasingly resemble summer. A lot of conventions and tradeshows come into Hong Kong during both of these high seasons, when hotel occupancy rates and prices are at their highest.

If you're looking to save money (without enduring the hot & humid summers), the best time to visit is during the winter—prices for hotels start to drop around December. January and February are the coldest months (lowest humidity). But personally, I find it comfortable (then again, I live in San Francisco). During the winter, temperatures can drop under 50°F (10°C) but is more typically in the 50° and 60°F range (14°-20°C).
Do I need to apply for a visa to visit Hong Kong?
Probably not. Hong Kong allows citizens from about 170 countries and territories to visit without a visa (in other words, you can just show up). You'll only need a valid passport that is valid for at least six months. Upon HK entry, immigration will give you an official HK entry slip—make sure to keep it since you'll need to show it when you leave.

Citizens from these countries can visit visa-free for up to 90 days: U.S.A. & CANADA, AUSTRALIA, BELGIUM, DENMARK, FINLAND, FRANCE, GERMANY, GREECE, ICELAND, ISRAEL, ITALY, JAPAN, S. KOREA, MALAYASIA, MEXICO, NETHERLANDS, NEW ZEALAND, NORWAY, POLAND, PORTUGAL, ROMANIA, SINGAPORE, SPAIN, SWEDEN, SWITZERLAND, TURKEY. Citizens of SOUTH AFRICA & THAILAND can visit visa-free for up to 30 days. U.K. citizens can visit visa-free for up to 120 days. TAIWAN citizens need to submit an application for an "entry permit."

Hong Kong and mainland China run separate immigration systems. If you want to visit China, you will definitely need to apply for a visa. You can easily do so through any travel agent in Hong Kong (in only about 2-3 working days but also have expedited same-day service). Also keep in mind that if you're visiting Hong Kong from China, you won't be able to go back into China unless you have a multiple-entry visa.  For more info, see my China Visa Requirements page.
What's the best place to get or exchange money?
In general, it's very easy to get/change money in Hong Kong since their financial system is extremely sophisticated and globally integrated with the major ATM and financial networks. As to the best way to get cash, it depends on the actual commissions and amounts that you're either withdrawing from an ATM or exchanging.

As expected, the airport currency exchange desks offer the worst rates. Either exchange a small amount to take the train into town, or use an airport ATM. As with most ATMs used outside of your home country, you'll typically pay a service charge by the foreign bank as well as your own bank. Personally, I increase my daily ATM withdrawal limit before traveling, although I'm often limited by the maximum amount allowed by the foreign bank (for example, in China, ATMs usually have a Y2500 maximum). Except some smaller local banks, HK banks are integrated into international systems like, Cirrus, Maestro, Plus and Visa Electron. I always go with the biggest one: HSBC (although Hang Seng and Standard Chartered ATMs will work fine as well).

On the other hand, if you're exchanging money, avoid HSBC since they charge a heft HK$100 commission fee. You're better off with the other two, where they only charge HK$50 for non-account holders. Hotels offer better exchange rates than the airport, but not as good as the banks.

Another option is to use a licensed money changers, such as Chequepoint, which you can find in touristy areas, such as Tsim Sha Tsui. Apparently the money changers in TST, in Chungking and Mirador Mansions, can be a good deal too. Although they don't charge a commission, their rates are higher (equivalent to a 5% commission). You'll get a better exchange rate when you exchange larger amounts of currency. For example, the long-running Wing Hoi Money Exchange in the Mirador Mansion can change a wide range of currencies and travelers checks (2723 5948; Ground fl, shop No 9B, 58 Nathan Rd, Tsim Sha Tsui. 8.30am-8.30pm Mon-Sat, 8.30am-7pm Sun). Finally, avoid changing money when banks are closed since they'll usually have non-competitive rates.
Will my credit cards work in Hong Kong?
The most widely accepted credit cards are: Visa, MasterCard, Amex, and Diners Club.  To play it safe, I bring a couple of credit cards in addition to my ATM/debit card (and a back up!). In Hong Kong, you'll likely have no problem using any of these (I've never had any problems—my issuing banks are large global ones). But it doesn't hurt to have extras in case you lose a card for whatever reason.   Travelers checks are widely accepted in HK (not so much in China).

Other tips: If a merchant asks you whether to charge a credit card with local currency or foreign currency, always go with local HK$ (otherwise it'll be converted using the merchant's usually higher exchange rate). Also, some sellers will add an extra charge (anywhere from 2-7%) if you pay by credit card, instead of cash. They're technically not allowed to do this, but they usually get around it by calling it a "5% discount" for cash purchases. Finally, it's a good idea to write in "HK" in front of the dollar sign when you're signing your credit card receipt if you don't see one already printed.
What are Hong Kong's Customs & Duties restrictions?
Hong Kong is a duty-free port, meaning that you can bring almost anything in or out of the SAR (except for the usual prohibitions on illegal drugs, guns, explosives, etc).  For example, you can bring in (or out) an unlimited amount of currency.

As a free port, HK does not levy any Customs tariff on imports, nor do they set any tariff quota or surcharge.  Similarly, HK doesn't charge a value added or general services taxes. Excise duties are levied only on these four types of dutiable commodities:
• Tobacco (allowed one pack or 25 grams of tobacco)
• Liquor (1 liter allowed)
• Hydrocarbon Oil
• Methyl alcohol
Final Thoughts on Hong Kong
As you can see, you'll definitely want to add Hong Kong to your travel itinerary.
Often ranked as having the best city skyline in the world, HK is colorful and superbly chaotic—a dazzling city of futuristic skyscrapers that also offers serene mountains and stunning vistas of open sea and island.
By adding Hong Kong to your list of travel destinations, I promise you that you won't be disappointed!