So much has changed (and continues to change) now that China has re-opened after Covid. The question I constantly get asked is: "Do I need a China visa before I travel to China?" Below I'd like to share with you everything you need to know as you apply for your visa to China.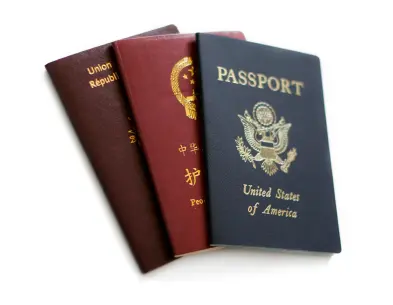 The short answer to that question is really quite simple:
Yes, you need a China visa.
With few no exceptions, almost all foreign visitors to China need to apply for a visa in advance. These visas are available from Chinese embassies and consulates all over the world, as well as through visa agents and tour operators.
As we go in-depth on getting a visa to China, you can skip to a specific section using the links below:
Applying for a Chinese visa takes a bit of time and isn't cheap, but it's not terribly hard. My hope is that by the end of this article, you'll feel much more comfortable about the whole process.
Note: Some of the links in this article are affiliate links, which means that at no extra cost to you, I may be compensated if you choose to use a service listed here. I try my best to be unbiased and only recommend those services that I have personally used.
What is a Chinese Visa?
A China visa is a permit that gets glued to a page of your passport, granting you permission to enter China upon arrival.
This page will be checked at customs and the opposite page will be stamped with the date of your arrival.
A Chinese visa usually looks like this:
The most important parts of the China visa include:
Visa Number: That's the red number on the top right.
Visa Type: If you're a tourist, there will be a big "L" here.
Max Visit Length: This number tells you how many days you can legally stay in China at one time (usually 30, 60 or 90 days).
Entries: Some Chinese visas allow you to only enter once. Others are "multi-entry", which means you can exit and re-enter China multiple times during the same time frame.
Date: China visas aren't valid indefinitely, and the visa itself will tell you how long after a specific date that you must use the visa.
The rest of the China visa is pretty self-explanatory.
China Visa Requirements for Application
Any China visa application starts with an online form that requires you provide a lot of personal information and submit a number of official documents. It is very important that you fill this out correctly, as one small error can end up in rejection.
The China visa requirements aren't too complicated. The paperwork might be a little confusing, but the requirements themselves are easy-to-understand.
It basically boils down to a few handful of requirements in order to apply for a China visa:
Valid Passport: You must have a passport that has at least 6 months of validity from the date at which you plan to enter China. The passport must have at least 2 blank pages and will need to be signed.
Completed Application Form: This form can be downloaded here on the Chinese consulate website. You'll need to have a signed application form for each traveler, even if they are children (the guardian can sign on their behalf).
Proper Passport Photos: Photos must be taken against a white background sometime within the last 6 months. Size requirements for the China visa photo are 48 mm x 33 mm. This photo will be glued to your application form.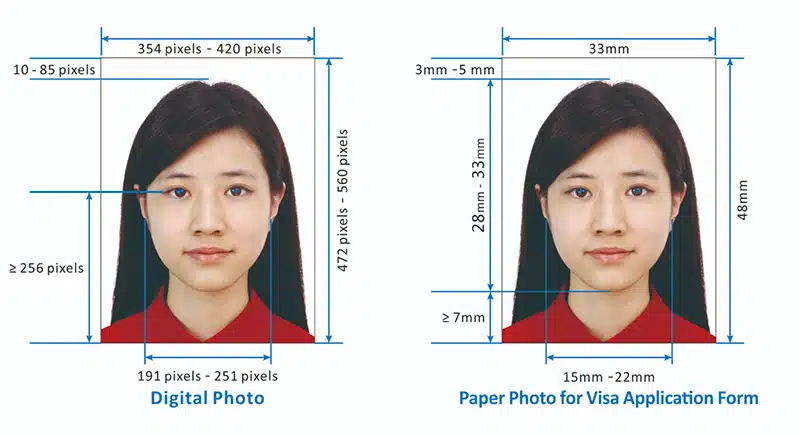 Invitation or Flight/Hotel Reservations: Depending on the type of China visa you're applying for, you will be asked to provide proof of flight or hotel reservations or an invitation from a company. Note: some travelers purchase refundable tickets/hotels for the sole purpose of the China visa application.
It's worth stating that Chinese embassies and consulates don't allow you to mail in your visa application so you'll either have to visit one or use a travel/visa agent. In the United States, unless you live in a city with a Chinese consulate, visiting in person can be a big pain.
There are hundreds of "visa agents" out there, but I'm very picky about who I give my passport to. The benefit of using these services is that they know all the China visa requirements and can help make sure you're doing it all right.

I've used Passport Visa Express for all of my China visas over the years and it's always been a very good experience for me. Get 10% off using code ChinaMike at checkout.
Is a Visa Required for Hong Kong and Macao?
I would like to point out that the visa requirements for Hong Kong and Macau are different than China. Both of these "administrative regions" have own tourist guidelines.
For example, citizens from the US, Europe, Australia and New Zealand are issued visas on arrival (which means you don't have to apply for a visa before travel) and can stay up to 90 days.
Once you arrive in Hong Kong or Macau, it is possible to visit the Chinese embassy in the regions and apply for a China visa there. It will require a bit of time and patience, but it can be done.
What about Visa-Free Transit in China?
Remember when I told you that almost all foreigners need a China visa? Well, here's the one exception: the visa-free transit policy. This policy has been put on hold ever since Covid, but we're keeping this explanation here because it will likely be re-instated later.
Note: This policy is sometimes confused with the "Transit Visa", that does require application. For this section, we are specifically referring to the visa-free transit.
China has created a couple of transit visas, the most popular of which are the 72-hour visa and the 144-hour visa. These are "visas on arrival" or VOA for short, which means that you theoretically don't have to apply for the visa prior to arrival.
The problem is that there's a lot of confusion surrounding these China transit visas and China hasn't done much to help clear things up.
As far as I can tell, here are the most important things to know:
Who Can Use a Transit Visa? Most of the major European, American and Oceania countries can use it.
Where Can I use a China Transit Visa? You are only able to take advantage of the China transit visa when entering/exiting certain cities. Even then, your movements are restricted to that specific area.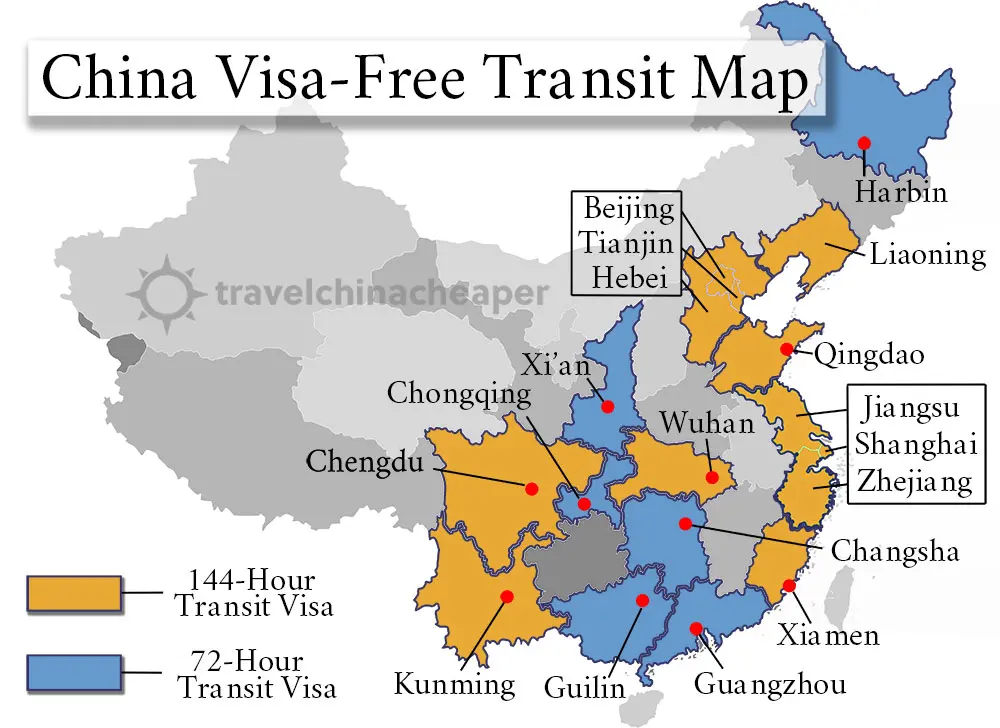 Applying for a China Transit Visa: Application is done at the airport when you arrive in China. There have been attempts to move this application process online, but so far they have been a failure.
In most cases, I advise against relying on the China transit visa because everything is so ambiguous.
I've heard stories of travelers who have been turned away at the Chinese airport because they didn't qualify like they thought they did. Their only choice was to turn around, get back on a plane and return home.
China Visa Tips and Expert Advice
As somebody who has applied for (and received!) quite a few China visas over the past decade, I have a few tips that you might find helpful as you prepare to apply for your China visa.
It's best to apply for your visa about 1-2 months before departure date. It supposedly only takes 4 business days but I'd give yourself 2 weeks lead time just in case.
The visa application is tricky, and the slightest mistake is often cause for a visa rejection. I know…it's happened to me! That's why I've used Passport Visas Express – they double check my application to make sure you've met all the China visa requirements and that everything is filled out correctly before it gets submitted.
The visa application asks to list your occupation. If you're a journalist, documentary filmmaker, or political activist….it's probably safer to write in something like, "professional dog groomer" or "subway bucket drummer" instead. Don't worry – they won't call your references 😉
With the exception of Tibet, which requires a special permit to enter, a China visa gives you access to all other parts of China. No other special permit or visa is required.
If you're traveling on a packaged tour, you probably won't need to apply for an individual visa since your tour leader will apply for a group visa (after getting your details).
Extending Your Visa within China
To extend your visa, you will need to visit the local Public Security Bureau (PSB) in the city where you're staying. This bureau, known as the 公安局 in Chinese, is usually open weekdays 9-11:30am and 1:30 to 4:30pm.
It'll involve some paperwork but it's usually easy to get at least a one-month extension.
The processing times, costs, and length of extension reportedly vary from region to region. To maximize their chances, some travelers go to PSB (basically, a police station) in smaller towns because they have a reputation for being less strict and nit-picky.
Beijing is reportedly the worst place to ask for an extension (longer processing times plus sometimes other requirements such as proof of finances). I've read that Shanghai and Guilin are not as stringent and fairly efficient and easy.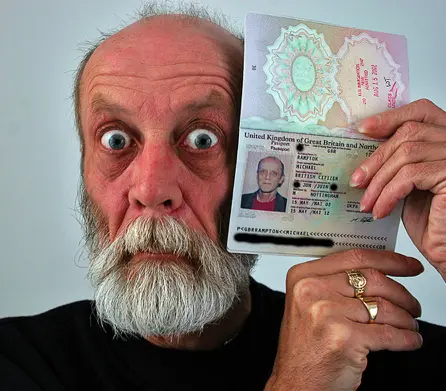 If for some reason, they won't extend your visa for China, you can fly to Hong Kong to apply for a new visa (only about 1-2 business days).
Don't overstay or you'll be fined Y500/day (although it could be harsher, especially for longer overstays) and you likely won't be allowed back into China for a period of time.