Marco Polo—writing at the end of 13th century—described the city of Hangzhou as "the most beautiful and magnificent in the world." Although he'd probably retract that statement if he came back today to see modern Hangzhou, which predictably offers more of the same bland construction that passes as Chinese architecture.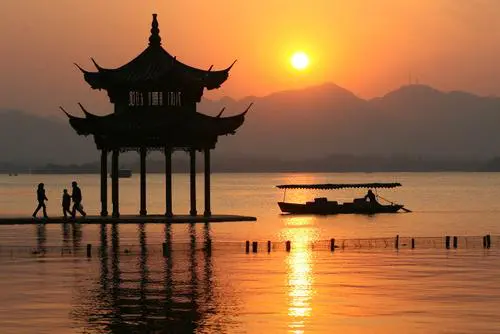 But still, Hangzhou has retained plenty of charm, along with its reputation as most romantic city in China (earning it the title as China's Honeymoon Capital). Hangzhou and it's northern cousin Suzhou are often linked as two "paradises below heaven." Hyperbole notwithstanding, I would have to agree that Hangzhou is one of China's most picturesque cities and definitely worth visiting for a couple of days.
The city itself is nothing to write home about—the undisputed star in this show is the spectacular West Lake (Xi Hu), around which Hangzhou curls. The West Lake offers picture postcard-esque Chinese vistas (think: tea-growing hills, trees, flowers, pagodas, pavilions, old fishing boats).
Another bonus for tourists: Hangzhou is easy to get around on foot or bicycle—you could easily spend a few days wandering around the trails.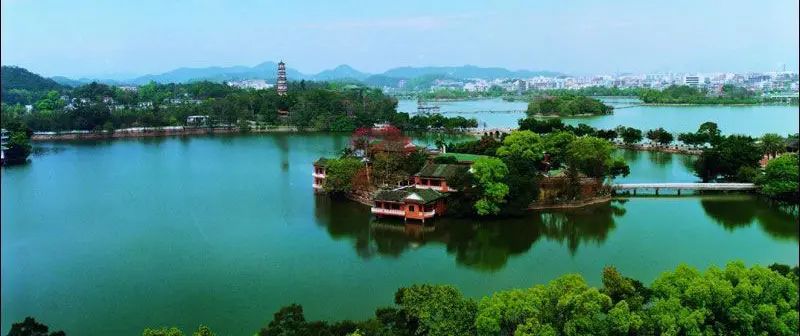 Combined with a good supply of sophisticated restaurants, a funky arts scene, and lively nightlife, it's easy to see why Hangzhou is one of China's most popular getaways.
TIP: Avoid the weekends when tourists and honeymooners descend on the city from Shanghai (about 110 miles/180 km to the northeast) and other neighboring cities.
Cuisine in Hangzhou
One of the most important parts of traveling is tasting the delicacies. The local dishes are noted for their elaborate preparation, sophisticated cooking and refreshing taste. Many local specialties will be sure to make your visit an exciting experience. It is recommended to try the Beggar's Chicken (a chicken baked in clay), West Lake Fish in Sweet Sour Source (vinegar coated fish fresh caught from the lake), Dongpo Pork (braised pork) and Fried Shrimps with Longjing Tea.
Things to Do in Hangzhou
Besides the most well-known scenic spot in Hangzhou, the West Lake, there are plenty of other great constructions worth visiting.
Xihu (West Lake)
In Hangzhou, the West Lake is definitely a must-see spot. It is an incredibly beautiful lake covered with a lot of gardens, pagoda, temples, and lovely artificial islands. The West Lake was actually voted as one of the top ten resorts in China in 1985, and named a UNESCO World Heritage Site in 2011 due to its influenced garden design. The West Lake is particularly famous for its ten tremendous scenes, which are collectively known as the 'Xihu Shi Jing' (Ten Scenic Spots in the West Lake), and each is just very majestic and heavenly-like.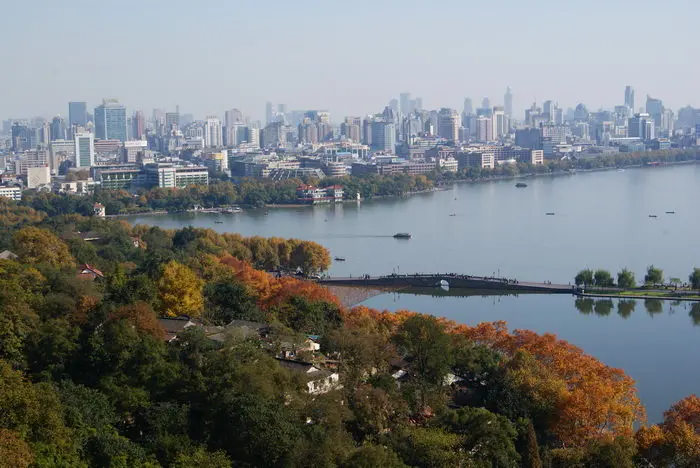 Shopping
When it comes to shopping in the city of Hangzhou, it is known to be very convenient. It is common for tourists and visitors to enjoy Hefang Street. It is one of the most famous and historic streets in the city and reflects the features of the Southern Song Dynasty (1127-1279). While here, you can admire the antique buildings and historical architecture while purchasing items from a wide range of local goods such as silk, brocade, or tea.
Nightlife
When the sun goes down in Hangzhou, the city comes alive. Teahouses and various kinds of bars/pubs are both popular. When deciding on where to go, try to find one that overlooks the West Lake and enjoy a nice conversation with a family member/friend over a cup of tea.
More Info & History
Like the ancient city of Suzhou which also benefited from its strategic position at southern end of Grand Canal, Hangzhou flourished at start of 12th century after the Chinese court was defeated by "northern barbarians" and fled south. In 1138, the newly formed empire of Southern Song dynasty (1126-1279) took Hangzhou as their temporary residence. Soon the city swelled to over 1 million, making it one of the largest cities in the world at the time.
Like its neighbors, the new capital of the Song dynasty, attracted poets, artists, merchants, artisans and grew rich from the silk trade. Even after the city lost some splendor after the Song dynasty vanished, Hangzhou remained a strategic trading post. Today, silk and tea are still the cornerstones of tourism and economy of Hangzhou.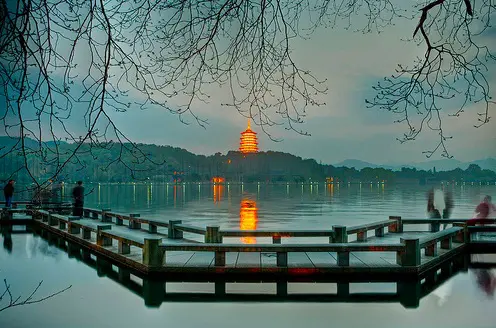 Travel to Hangzhou
So what are you waiting for? Add Hangzhou to your list of places to see while in China
As one of the Seven Ancient Capitals of China, Hangzhou is an important tourist destination for its history and culture and I believe this beautiful city is totally worth visiting.