Are you interested in learning more Chinese Consumer Facts? You've come to the right place.
Did you know, Chinese consumers spent $4.7tn in 2017 on everything from pet care to cinema tickets and cars, according to the National Bureau of Statistics, up from $3.2tn in 2012.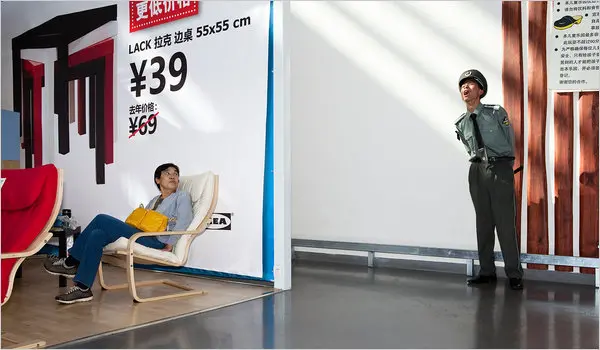 China Consumption & Consumer Market Facts
Besides being the world's second largest economy by nominal gross domestic product and the world's largest economy by purchasing power parity in 2019, China will soon become the largest consumer market and one of the most innovative economies in the world in 2020.
The overall pace at which Chinese consumption has grown is almost hard to imagine: just a decade ago, most urban Chinese had enough money to cover basic needs like food, clothes, and housing (92 percent had annual household disposable incomes of 140,000 renminbi or less).
Today, half are living in relatively well-to-do households (annual disposable incomes of 140,000 renminbi to 300,000 renminbi) where they have ample funds for perks like regular meals out, beauty products, flat-screen TVs, and holiday travel (Exhibit 2) .
China's house prices are expected to grow just 3.1% next year, the lowest over a calendar year since 2015, a Reuters poll showed, with tightening policies continuing to cool the market even as some easing is expected to prevent a sharp slowing.
Since Macau opened its doors to Las Vegas operators 16 years ago, annual revenue at the Chinese territory's casinos has surged tenfold, to $33 billion, making it the world's largest gaming locale.
China Consumer Facts
From 2007 to 2009, retail sales in China grew by 25% annually, according to McKinsey & Co.
[ Newsweek "Chinese Women Go Shopping" Aug. 27, 2010 ]

Four of the world's top 10 largest shopping malls are in China, including the world's number one and two largest (South China Mall in Dongguan and Golden Resources Mall in Beijing).
[Wikipedia]
73% of Chinese surveyed regarded shopping as a leisure activity. 45% identified it as one of their favorite pursuits, and just over half said it was among the best ways of spending time with the family. Chinese consumers "often shop without any intention of buying. Sometimes they are window-shopping or comparing prices. At other times, they may be shopping as a sport, competing with friends to find the best deals."
[ McKinsey & Co. "China's new pragmatic consumers" Oct. 2010 ]
The Chinese are "extremely brand conscious". 45% of Chinese consumers surveyed believe that higher prices correspond to better quality (compared with just 16% in the U.S. and 8% in Japan). However, they are "extremely pragmatic" so "while quality remains a critical consideration, value is the most important one."
[ McKinsey & Co. "China's new pragmatic consumers" Oct. 2010 ]
China Food Facts
China possesses about 6% of the world's total land area…on which it must sustain 20% of the world's population.
[ "China: Asia in Focus", R. LaFleur 2010]
China is now the largest food producer in the world. China is the world's top producer of agricultural products by value, with total production of about 4,078 billion RMB (US$536 billion). Japan is China's largest food export market.
[World Trade Organization 2010 Report ]
With almost half a billion pigs, China is the world's largest pork consumer and producer. China has more pigs than the next 43 largest pork producing countries combined (U.S. is #2 with 65.9 million pigs).
[ Wall Street Journal blog, April 20, 2010 ]
China is the world's largest producer and consumer of rice.
[ Wikipedia, Reuters ]
China is the world's largest apple producer (followed by the U.S. in second place) and the world's leading exporter of apple juice.
[ USDA statistics]
China's Growing Fast Food Culture
McDonald's expects to double the number of locations in China in the span of three years. In 2010, it had about 1,100 outlets but expects to grow to a total of 2,000 stores by 2013. McDonald's opened its first outlet in Shenzhen in 1990 and employs more than 60,000 people throughout the country.
[ Wall Street Journal blog, March 29, 2010 ]
KFC has over 3,200 outlets throughout China. In 1987, KFC was the first Western fast-food chain to gain entry to the Chinese market. Parent company Yum! also operates 520 Pizza Hut restaurants and 120 home delivery locations in China.
[Yum! Company website ]
China Facts about Beverages
China surpassed Europe as the world's biggest beer market. According to Credit Suisse's World Map of Beer: "In the space of a couple of decades the country has gone from barely touching a drop to become the world's biggest beer market, a considerable distance ahead of America. And beer drinking in China is growing fast, by nearly 10% a year."
[ The Economist online, "All Pints East" August 17, 2010 ]
China—the world's sixth largest wine producer—will be the world's top producer by 2058, according to Berry Bros & Rudd (BBR) "Future of Wine" report. The report also predicts that in 50 years, China will "rival the best of Bordeaux."
[ BBR Future of Wine report, 2008 ]
An anonymous Chinese phone bidder paid US$232,000 each for three bottles of 1869 Château Lafite Rothschild at a Sotheby's auction in Hong Kong —smashing the record of $156,450 paid in 1985.
[Time Mag. "A Bordeaux Bubble" March 5, 2011 ]
In China, coffee sales in stores more than tripled from 2004 to 2009, according to the Euromonitor International. In 2009, coffee sales hit 4.6 billion yuan ($694 million).
[ Wall Street Journal "Starbucks to Open China Coffee Farm, Securing Global Supply" Nov. 15, 2010; Businessweek "Starbucks Sets Up Coffee Facilities in China's Yunnan" Nov. 2010 ]
Starbucks dominates the Chinese market with around 70% percent market share. China is "poised to become Starbucks' second-largest market behind the U.S., overtaking Canada, Japan and the U.K."
[ Wall Street Journal "Starbucks to Open China Coffee Farm, Securing Global Supply" Nov. 15, 2010; Businessweek "Starbucks Sets Up Coffee Facilities in China's Yunnan" Nov. 2010 ]

In 2007, Starbucks closed their store inside the Forbidden City after a controversy brewed over "Chinese sensitivity about cultural symbols and unease over an influx of foreign popular culture." An online protest was led by a news anchor for Chinese state television.
[ New York Times "Starbucks closes coffeehouse in Beijing's Forbidden City" July 15, 2007 ]
Starbucks plans to grow the number of mainland China stores from about 400 to "thousands" of stores, according to CEO Howard Schultz. In 2010, the company signed a deal with the provincial government of Yunnan to set up its first-ever coffee-bean farm in the world to cater to the Chinese market.
[ Wall Street Journal "Starbucks to Open China Coffee Farm, Securing Global Supply" Nov. 15, 2010; Businessweek "Starbucks Sets Up Coffee Facilities in China's Yunnan" Nov. 2010 ]

China Facts about Raw Materials
China is the world's largest cotton producer and importer. Between 1949 and 2007, China's annual cotton production has leaped from 440,000 tons to 35.3 million bales, representing almost 30% of the world's total output.
[U.S. Department of Agriculture; University of Missouri: Project Cotton: Cotton and Wool Year Book, 2007 ]
China is the world's largest steel producer. In 2009, China's steel industry produced 567 million metric tons of crude steel, which represented 46.3% of the world's total output.
[ Emerging Markets Direct (EMD) China Steel Industry Report 2H10, November 2010]
China produces 95% of the world's rare earth metals, which are critical in the manufacture of many high-tech products ranging from smartphones to smart bombs.
[ New York Times "After China's Rare Earth Embargo, a New Calculus" October 29, 2010 ]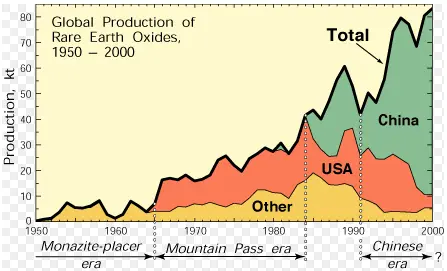 China is also the world's leading producer of aluminum, antimony, barite, coal, flourspar, graphite, iron and steel, lead, tin, tungsten, and zinc.
[US Geological Survey 2006; "China: Asia in Focus", R. LaFleur 2010]
China produced almost 50% of the world's flat glass and cement in 2006.
[ "China: Asia in Focus", R. LaFleur 2010]
China is the world's largest producer of gold, after taking the top spot in 2008 from South Africa, which was the world's top producer since 1905. China produced 276 metric tons of gold in 2007, representing over 10% of the world's total.
[ Report from London precious metals consultancy GFMS Ltd, China Gold Association]