As the start of the 21st century, China has become major global force— confident and booming economically (as if you didn't already know). The country's transformation has been blinding and unprecedented—with worldwide impact since it's taken place in context of globalization.
Side note: I found a great book that summarizes stuff you should know about China in the 21st century.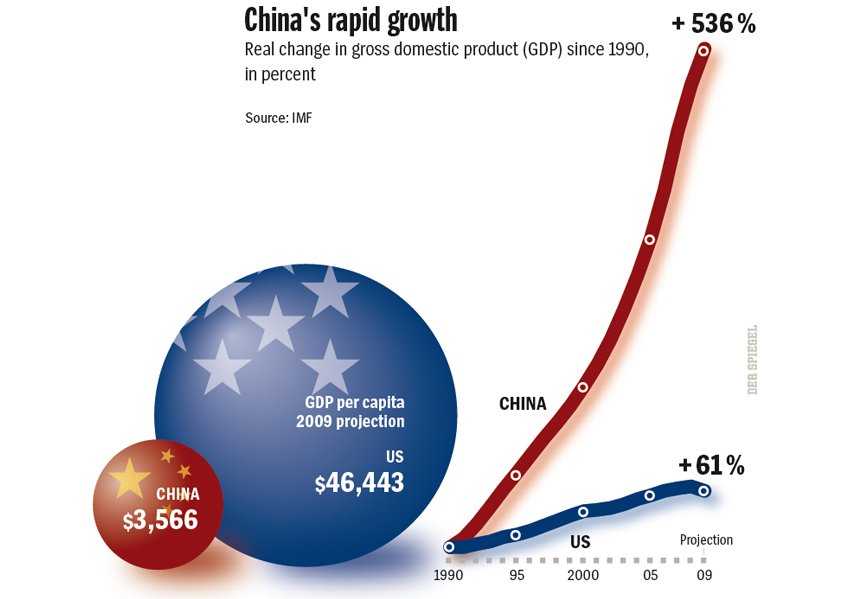 Buoyed by cheap labor and capital, China has become the world's fastest-growing major economy, with an average annual growth rate around 10% over the last three decades.
Since launch of economic reform in 1978, more people have been materially better off in a shorter span of time than ever before in human history.
Between 2002-2006, China's GDP doubled to 21 trillion yuan ($2.8 trillion). With a quarter of global workforce, China has titled international economics in the space of a decade.
In addition to becoming the biggest produced of steel and aluminum, among many other things, the PRC has launched a number of huge infrastructure projects—topped by $25 billion Three Gorges Dam (a project originally dreamed of since imperial days).
But China still remains deeply conservative politically—it remains the only one of the ten major global economies not to be a multi-party democracy.
Under Mao, China sought to export revolution. Today it looks to deploy its massive cash reserves, spreading "soft power" around the globe. Throughout, the PRC insists that it's pursuing a "peaceful rise" in search of a "harmonious world".
Timeline of China Development
Below is a simplified timeline of China's development starting in the late 1990s.
1997: Hong Kong is anti-climatically returned to China.
1997: US President Bill Clinton hosts a state dinner for Jiang Zemin, marking the first visit to the US by a Chinese head of state in twelve years.
1999: Macau reverts to Chinese rule after 450 years under Portuguese rule. In 2006, Macau—with about US$7 billion in annual gambling revenue—surpasses Las Vegas in the world's top gambling market (you know  Asians love to gamble!).
1999: The Falun Gong movement stages a huge rally in Tiananmen Square—some 10,000 members sit-in and demand an end to official criticism of the group. Founded in 1992, the FG—with central tenets of Truthfulness, Compassion, and Forbearance— is an apolitical, spiritual group that performs meditative qigong breathing exercises. The movement is energetically suppressed after being classified as a xiejiao ("evil cult") and made illegal. Several thousand are reportedly detained in prison camps. (The crackdown is perhaps less surprising given China's long history of secret societies, particularly a movement that had a committed, widespread, and multi-class membership in the millions).
2001: After the 9/11 attacks, a rare state accord is reached by the US, China and Russia—each with a vested interest in combating the spread of Islamic fundamentalism and terrorism in Central Asia.
2001: China is admitted into the World Trade Organization (WTO).
2003: SARS outbreak in Hong Kong and Guangdong province.
2003: Hu Jintao succeeds Jiang Zemin as the President of the PRC.
2004: China signs a landmark trade agreement with 10 Southeast Asian countries, which could eventually unite 25% of the world's population in a free-trade zone.
2005: Sparked by a Japanese textbook which China says glosses over Japan's World War II record, Sino-Japanese relations sour amid sometimes-violent anti-Japanese protests in Chinese cities.
2005: China and Russia hold their first-ever joint military exercises.
2007: China flexes it muscles in space with an exercise in which it shot down one of its own old weather satellites.  The move is seen by the Pentagon as a potential threat to America's communication systems and military (In recent years, the PRC started a program to build aircraft carriers and modernize its fleet).
2007: China offers resource-rich Africa triple the aid that the continent got from Western nations. That year's summit of the African Development Bank was held in the most un-African location: Shanghai.
2007: China passes the US as biggest emitter of greenhouse gases (though still far behind in terms of per capita emissions).
2007: New labor laws are introduced after hundreds of men and boys were discovered working as slaves in brick factories.
2007: Food and drug scandals spark international fears about the safety of Chinese exports. China's food and drug agency chief is executed for taking bribes.
2008: New Taiwan president Ma Ying-jeou (KMT, which has evolved to be the pro-China party) warms relations with China. Direct flights are established, Taiwan is opened to Chinese tourists, and restrictions are eased on Taiwan investment in China. Many pro-independence Taiwanese (DPP party) are angered by the moves.
2008: The Tibet unrest (known in China as the "three-fourteen riots") is suppressed by Chinese riot police. Death toll estimates vary widely (several dozen likely killed, including Chinese civilians, Tibetans and police).
2008: Sichuan province earthquake (death toll around 70,000)
2008: China hosts the 2008 Olympics in Beijing. Meanwhile, a 2008 Gallup poll revealed that 40% of Americans considered China to be the world's leading economic power (with only 33% choosing their own country).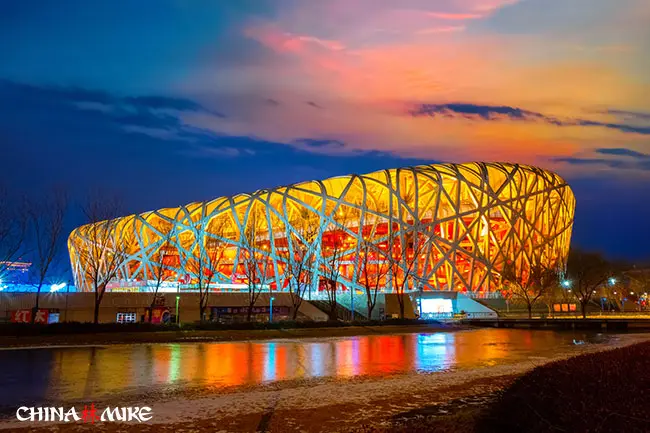 2008: Over 50,000 Chinese children get sick after drinking tainted milk, leading Premier Wen Jiabao to apologize for the scandal.
2009: Scores of people are killed and hundreds injured in the worst ethnic violence in decades as a protest in the restive Xinjiang region turns violent.
2009: China executes British citizen Akmal Shaikh for drug smuggling, despite pleas for clemency from the British government.
2009: China becomes the world's largest automobile market
2010: China overtakes Japan to become the world's second-largest economy.
2010: In response to alleged cyber-attacks on e-mail accounts of human rights activists, Google ends its compliance with Chinese internet censorship and starts re-directing web searches to Google Hong Kong (forcing foreign travelers to use a VPN in China to access blocked content).
2010: The Nobel Peace Prize is awarded to Liu Xiaobo, a Chinese human rights activist who was sentenced to 11 years in prison in 2009. Three weeks later, China announces it's own peace prize, the "Confucius Peace Prize" (awarded to Lien Chan, Taiwan's former vice president of the KMT).
Jan 2011: US President Obama hosts Hu Jintao–the first full "state dinner" for a Chinese head of state since 1997.