Still looking for something to do in Hong Kong? Here's some other HK area top picks, including some cheap outdoor day trips. Despite what you see on TV, Hong Kong isn't all skyscrapers and urban jungle. Believe it or not, about 70% of the Hong Kong area is countryside, which includes some great beaches, country & marine parks, and hikes with amazing seaside landscapes.



View China Mike's Hong Kong map in a larger map

[ NOTE: Open Google Map in another window to view all locations in left menu ]



HK ISLAND > Happy Valley Racecourse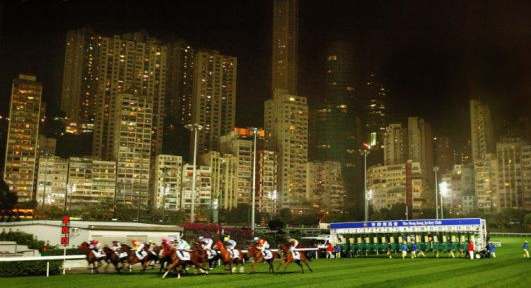 Hong Kong men generally avoid Wednesday nights to get their hair cut. Why? Because that's horse racing day, when everyone—including inattentive barbers—are distracted by the live broadcasts of the horse races. No where else on earth is horse racing so widely and passionately followed than in Hong Kong (it's no secret that the Chinese – most Asian countries really – love to gamble).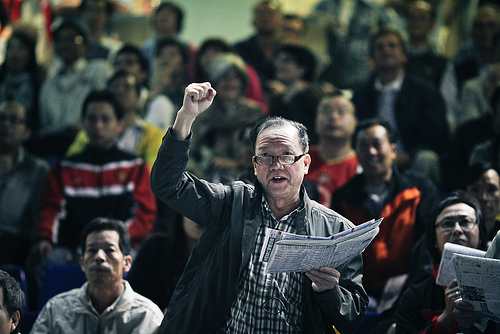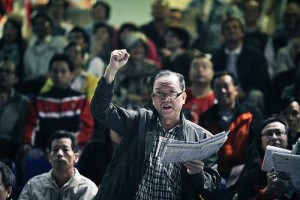 Even though Hong Kong bans casinos (unlike nearby Macau which now surpasses Las Vegas in total annual wagering revenue), HK has one of the highest per capita betting averages in the world.  Hong Kong's 2010 horse racing season alone (not including their lottery) accounted for an eye-popping US$9.22 billion in betting turnover.  Needless to say, a lot of emotions are on display on your average night at the ponies.  Simply put, Happy Valley is one of the world's greatest sporting spectacles.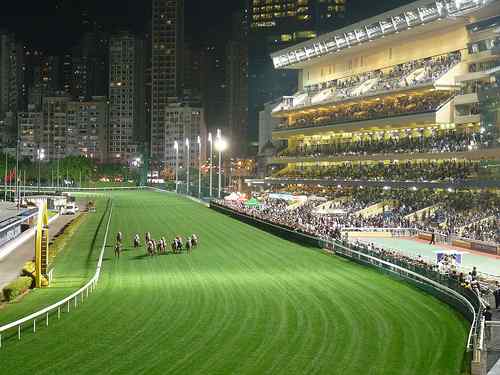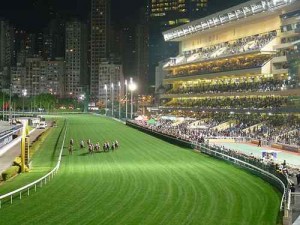 A HK$10 entry fee will enable you to catch all the electric action yourself (TIP: Bring your passport to get in at the $1 discounted tourist rate).  In addition to the gambling fever atmosphere, the packed race track also has restaurants and bars, where you can drink some of the cheapest beer in Hong Kong with rowdy locals and ex-pats.
The racing season is from September to June, with races held twice weekly –alternating between Happy Valley and the Shatin race tracks (Happy Valley is much more impressive as well as historic and convenient). The live races at Happy Valley are usually on Wednesday nights.
HOW TO GET THERE: Take the tram to Happy Valley terminus station.  Or take the MTR to Causeway Bay station (exit A), then walk south on Matheson/Wong Nai Chung road for 15-20 minutes.
[ For Tram route map and Causeway Bay MTR area map, see HK transportation maps ].




HK ISLAND > Southern District > Stanley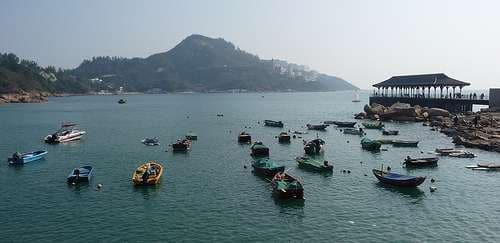 The northern and southern ends of Hong Kong Island are completely different. While the north is the urban jungle that most people associate with Hong Kong, the south is far less populated. A former fishing village, Stanley today is HK Island's most popular day trip — offering a more laid-back seaside atmosphere, a relaxing waterfront and some excellent beaches. Only a 40 minute bus ride from Central, Stanley Village does tend to get crowded on a nice weekend since it's the most popular day-trip for tourists (and locals).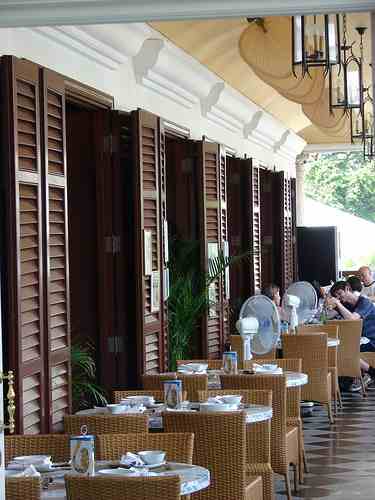 Most people associate Stanley with the popular Stanley Market, a maze-like warren of streets lined with hundreds of shops selling t-shirts, clothes, arts & crafts, silk products, and all manner of Chinese souvenirs. Or take a break from shopping and visit one of the waterfront bars and restaurants.
Stanley's two beaches—Stanley Main Beach and St Stephen's beach, which both get crowded during summer weekends—are also big attractions.
HOW TO GET THERE: Unfortunately, Stanley is beyond the reach of the MTR so you'll need to catch a bus or light mini-bus. From the Admiralty MTR station (exit C1), take bus 6, 6X (express), 6A (during morning & evening rush hours), 66, or 260 from Queensway Road.  [ See HK transportation maps ].




HK ISLAND > Southern District > Repluse Bay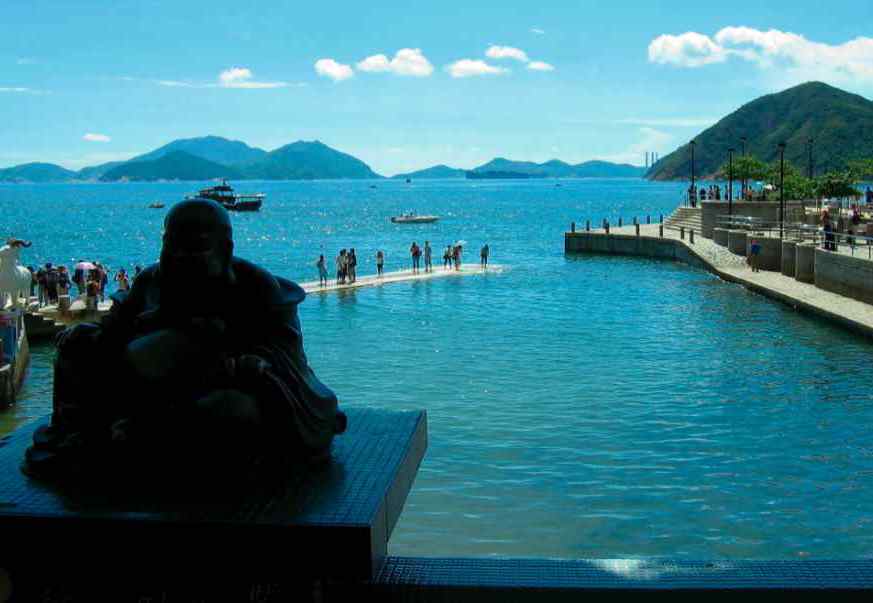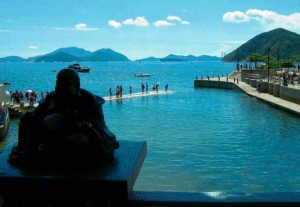 Another popular beach, Repulse Bay—close to Stanley— provides another nearby option for sun worshippers. The area also offers some restaurants/bars as well as some decent barbeque sites next to the beach. Towards the eastern end of the beach, you'll find a popular tourist attraction: the 18th century Tin Hau Temple—home to a statue of the goddess of the sea and said to be the oldest building in HK—as well as other nearby cool temples.
HOW TO GET THERE: From Central's Exchange Square, take Bus No.6, 6A, 6X, 260 or 262 (bound for Stanley).  Or take minibus No.40 (bound for Stanley) at Causeway Bay's Tang Lung Street (Corner of Percival Street and Hennessy Road). Or take the Star Ferry Pier from Central.  [ See HK transportation maps ].

HK ISLAND > Southern District > Shek O Beach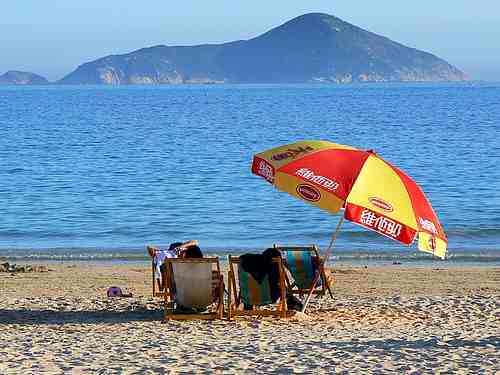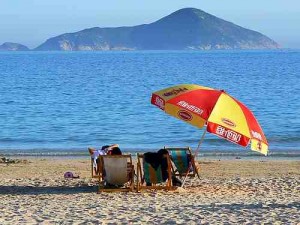 Yet another good beach option in Hong Kong Island's Southern District, Shek O Beach is a relaxing laid-back seaside village with a beautiful beach— only about an hour from downtown HK.  The water quality is better than that of Repluse Bay or Stanley, so is worth the extra travel time for swimmers.  For the best surfing in Hong Kong, head to nearby Big Wave Bay (about 2km north of Shek O). Like the other beaches, Shek O also has a range of restaurants with al fresco dining, as well as facilities such as lifeguards, shark nets, and changing rooms.
HOW TO GET THERE: From the Shau Kei Wan MTR station (exit A3), take the # 2 Minibus to Shek O.  [ See HK transportation maps ].

HK ISLAND > Ocean Park (theme park)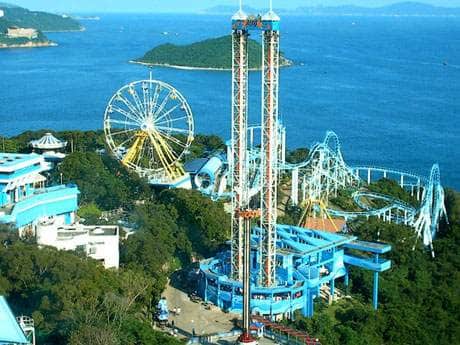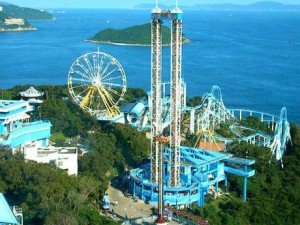 A common question asked by families visiting Hong Kong is: "Should we visit Ocean Park or HK Disneyland?" From my research, the consensus is that Ocean Park is the clear winner. Although Hong Kong Disneyland is much newer (opened in late 2005) and enjoys worldwide brand recognition, it's a scaled-down (small) Disney franchise and, well,….pretty lame.   Many guide books and websites have commented that HK Disneyland is really only geared towards young kids (L.Planet calls it "very disappointing for all but the very youngest children.").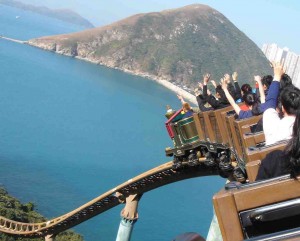 Ocean Park, on the other hand, has something for the whole family (including young kids). A Hong Kong institution, the theme park has invested a lot in upgrading and expanding their rides and attractions. For instance, they feature two excellent white-knuckle roller coasters (Disneyland has one), in addition to other adult-friendly thrill rides.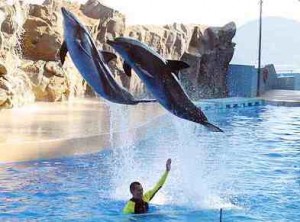 In addition, Ocean Park boasts some excellent (and educational) first-rate marine shows and exhibitions—featuring a great jellyfish exhibition, dolphin and killer whale shows, shark aquariums, and some 200 species of fish.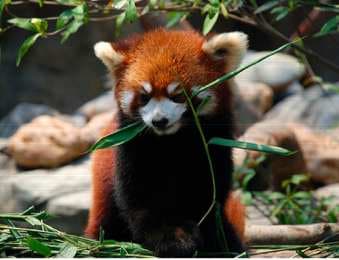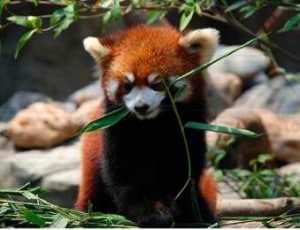 Add in animal attractions—including four giant pandas and four rare red pandas—as well as impressive aviaries and the Amazing Birds Theatre, and you've got a combination of family fun that's hard to beat. To top it off, Ocean Park (adult HK$250 and child HK$125) is cheaper and more conveniently located than Disneyland, which is on Lantau Island.
HOW TO GET THERE: Take the MTR to Admiralty station. Then take bus # 629 (first stop after clearing Aberdeen Tunnel).  www.oceanpark.com.hk  [ See HK transportation maps ].




Sai Kung Peninsula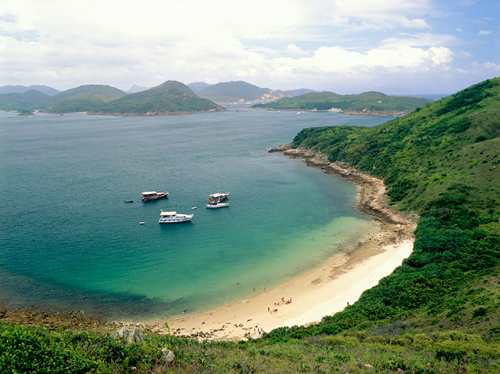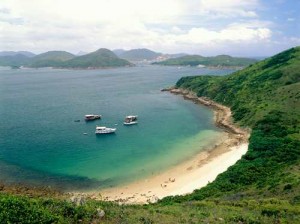 Want to escape the crowds and concrete? Then head over to the Sai Kung Peninsula, which—aside from the Outlying Islands—offers the best green havens for hikers, campers, picnickers, swimmers, and boaters. Sai Kung Country Park—a huge 7500-hectare country park with lush green grasslands, which drop you into secluded, pristine beaches—is where many locals head to get away from the frantic pace of city life.
Located on the east side of the New Territories, Sai Kung features the MacLehose Trail, a 100km route that starts at Pak Tam Chung.  Sai Kung Beach is another great day in the sun, with clean beaches and excellent water quality (take bus # 92 from Diamond Hill MTR in Kowloon).
[ Click here for my Best Hong Kong Hiking Trails (HK island, Sai Kung, and Lantau) ]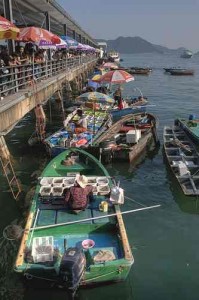 From Sai Kung town, it's worth checking out some of the more isolated beaches if you have time (you can take a small boat, a kaido, from the waterfront). After a day in the sun, the town has some great bars and seafood restaurants on its mellow waterfront.
HOW TO GET THERE: Unfortunately the MTR doesn't extend all the way to Sai Kung Peninsula. But there are many ways to get to Sai Kung Town— the most popular is to take the MTR to Choi Hung station, then take minibus route 1A (the quickest way from Kowloon). From Hong Kong island, the fastest way is to take the MTR to Hang Hau station, then take minibus route 101M.  [ See HK transportation maps ].




Lamma Island
Only a 20-minute ferry ride from HK Island, laid-back Lamma Island is another popular mellow escape from the urban jungle that is Hong Kong. The third-largest island of the area (behind Lantau and HK Island), Lamma only has some 5000 residents, including many ex-pat slackers & hippie types (my kind of folk!). The main village of the 13 sq km island is Yung Shue Wan, a tiny town where you can spend some time relaxing in one of their down-to-earth coffee shops, bars or restaurants.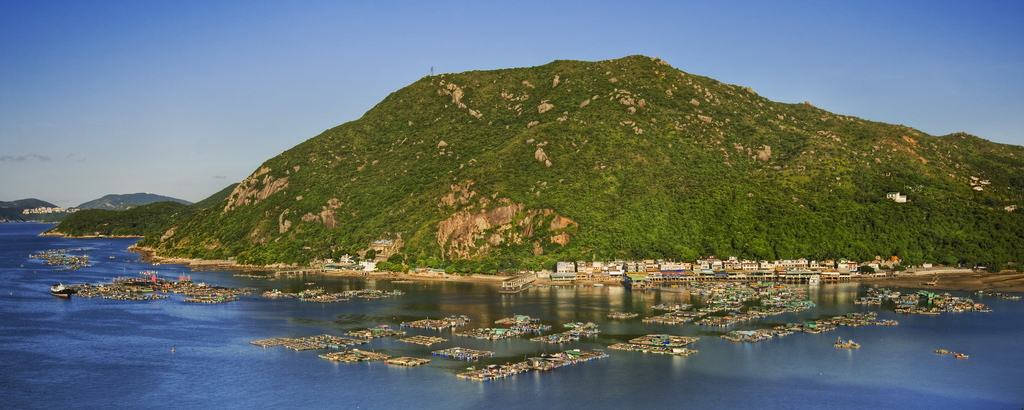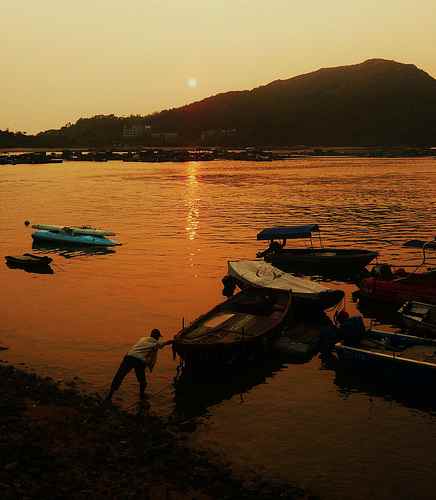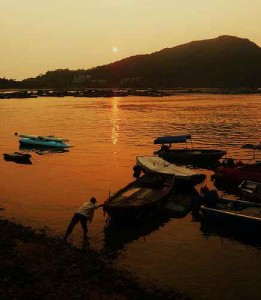 An island with a lot of bikes (and no cars), Lamma is also popular with hikers. Though the hiking trails are not as spectacular as say Sai Kung, they're still a nice way to spend the day, especially if you mix in a beach stopover and some drinks at a local bar. The most popular trail is the 4km Family Trail, which runs about an hour between Yung Shue Wan and Sok Kwu Wan. Not surprisingly, Lamma is also home to a number of excellent, cheap seafood restaurants – with many clustered in one of those two villages.
HOW TO GET THERE: From HK Island, take a ferry from HK Central (Pier 4 for Lamma Island Ferries). Ferries every hour to Yung Shue Wen and every 90 minutes to Sok Kwu Wan (make sure to check the time of the last ferry leaving Lamma).  [ See HK transportation maps ].
Return from HK Attractions (part II) to Hong Kong Guide