Check out any Hong Kong guidebook or website and you'll probably find a long list of tourist attractions and experiences. It can be too much to digest. It's true that there's a lot to do and see in the area. But the good news is that, geographically, the HK area is compact (for example, most of the action on HK island is concentrated on the northern end). Public transportation is excellent too, enabling you to see a lot in a relatively short time.
Below is my "48 hours in Hong Kong" itinerary, hitting the best HK sights and experiences. To be honest, it's a lot—probably too much—for most people to pack into such a short time. To really do Hong Kong right, you'll want to budget at least 4-5 days. Instead my two-day plan is one that looks good on paper…but the reality is that time flies when you're traveling (getting lost, waiting in line, sidetracked by shopping/coffee break, etc). Also, some of these destinations can easily take up a half-day or more (for example, Lantau Island or Pacific Place mall if you're a shopper).
So my advice is to prioritize and be prepared to cut a few stops along the way. On day one, for instance, your main goal might be to get up to Victoria Peak by dusk. On day two, your goals might be to beat the morning crowds headed to see the Big Buddha, and get to the Tsim Sha Tsui waterfront to catch the 8:00pm laser & light show.
View Hong Kong in a larger map
[ NOTE: Open Google Map in another window to view all locations in left menu ]


48 HOURS IN HONG KONG > Day one:
Wake up early to watch tai chi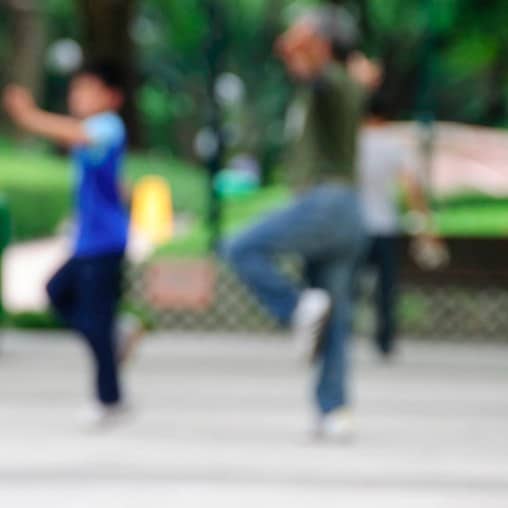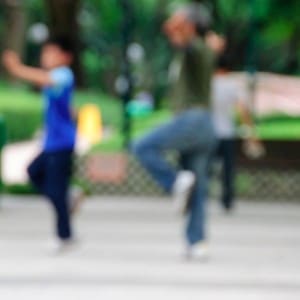 Suck it up and drag yourself out of bed early. Grab a coffee and then head to any of Hong Kong's parks to watch local residents going through the graceful movements of tai chi (kind of like kung fu in slow motion). The best HK parks for watching are: Hong Kong Park, Victoria Park, the Zoological & Botanical Gardens, or Kowloon Park (if you're staying on that side of the harbor). Hong Kong Park (in Admiralty) also contains an aviary with over 600 birds, as well as a tea museum, if that's your cup 'o tea. On another day when you have more time, you can even join in yourself; free tai chi sessions for beginners are held four mornings a week on Tsim Sha Tsui's waterfront promenade.
[ Note: above parks—and all these other attractions—are shown on above interactive Google map ]
Dim Sum brunch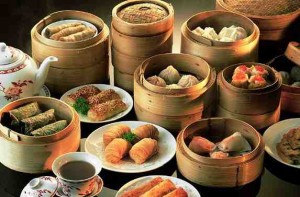 By now, you're probably hungry. What better time for Cantonese's most famous cuisine, dim sum? Hong Kong has dim sum restaurants pretty much everywhere. For the full-on d.s. experience, most guidebooks and locals agree that the best ones are Luk Yu Tea House and City Hall Maxim's Palace (see this Hong Kong restaurant guide). Even though both are popular tourist draws, they're also popular with the locals so they're not tourist trap-type of places. On weekends, it's best to arrive on the earlier side of brunch (say, before 10:30am or so) to avoid waiting too long for a table.
Jump on a tram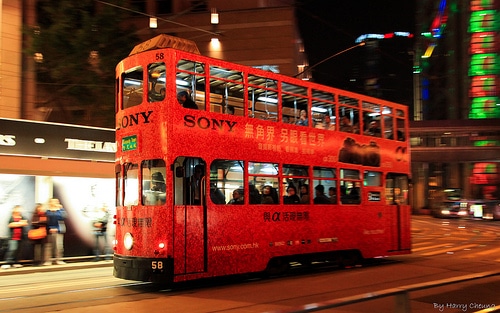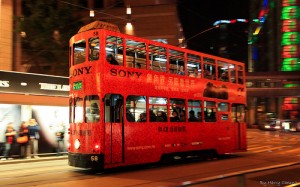 Serving HK since 1904, these rickety double-decker trams are not just iconic symbols of Hong Kong, they're also the cheapest and coolest way to check out Hong Kong Island (at least the northern, main urban area of the island). In Central, you can hop on the tram at Des Voeux Road Central (the best seats are in the front on the upper deck). Riding at night is pretty cool too (just avoid morning and evening rush hour peak times). Take the tram to Admiralty (eastbound from Central) to check out Pacific Place.
[ See my HK transportation maps page for Tram route map or Central MTR station area map ]
Pacific Place (Admiralty)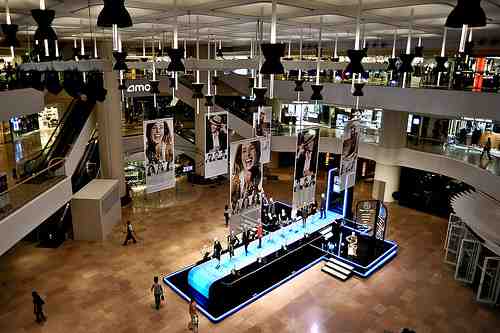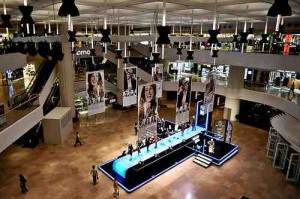 This isn't for everyone (in particular, budget backpackers), but if you're at all interested in doing some shopping (or at least checking out Hong Kongers' favorite past time), Pacific Place is widely considered as Hong Kong's best shopping mall. For serious shopaholics, you'll probably want to do this some other day since you could be there are day; there are hundreds of outlets, mostly high-end brands (see my HK Shopping Guide). If shopping malls aren't your thing, ride the tram for a while, then head over to…
The Mid-Levels Escalators (Central)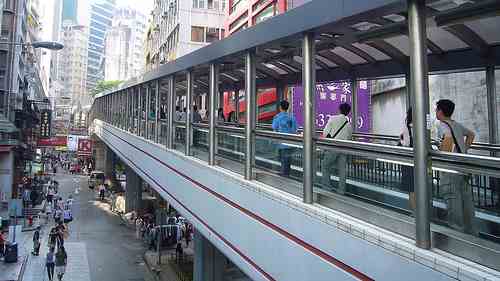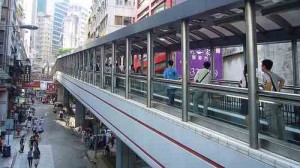 Part sightseeing ride and part commuter godsend (especially on one of HK's many hot & humid days), these are the world's longest outdoor escalators (800m long). It's not actually one continuous escalator, but a series of escalators and moving walkways that head one-way up the steep incline. The mid-level escalators start out at Queen's Road Central.
[ the Mid-Levels Escalators are also shown on the Central MTR station map ]
Lunch in SoHo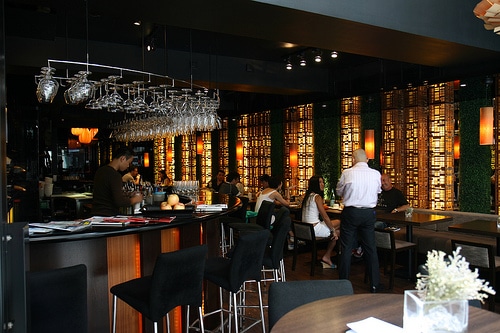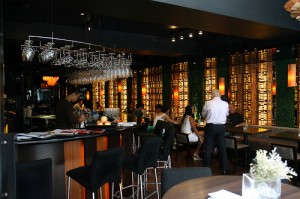 You can take the escalators all the way up on Shelley street to check out all the bars and restaurants along the way (and then walk back down). Or hop off on either Hollywood Road or Staunton Street and walk west to the heart of SoHo (South of Hollywood), where you'll find even more dining options. The area has a wide range of international cuisine—from Asian fusion to Nepalese to Mexican. You'll also find plenty of comfortable pubs, cafes, and coffee shops for a quick drink.
Hollywood Road & Cat Street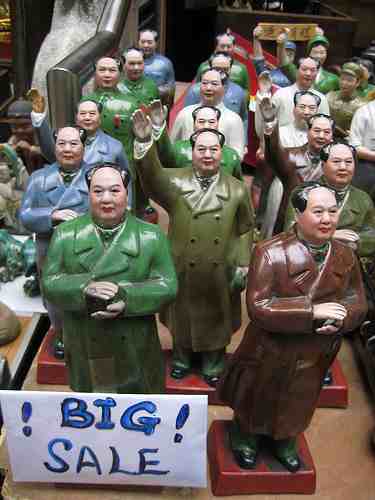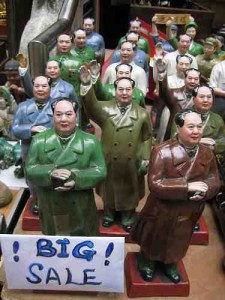 While you're in the neighborhood in SoHo, take a post-lunch stroll to the Hollywood Road. There are high-end, real antique shops in this area…but unless you know your stuff, you're better off checking out the little shops and flea market-like outdoor stalls on Upper Lascar Row (or "Cat Street," parallel to Hollywood Rd, one street north). Souvenir-hunters could spend a while just browsing through all of the cool crap: fake but cool antique Omega watches, old HK (and Bruce Lee) photos/posters, figurines, and all kinds of unique gifts and Chinese knick knacks. While you're in the 'hood, the Man Mo Temple is right there too on Hollywood. It's always listed in the guidebooks as a featured HK attraction but IMHO, it's pretty lame (especially compared to almost any temple on the mainland).
St. John's Cathedral (or nearby Hong Kong Park or Zoological Gardens)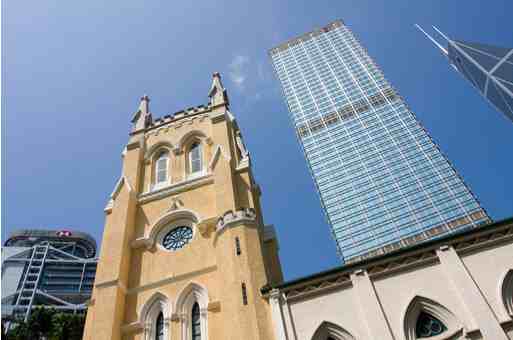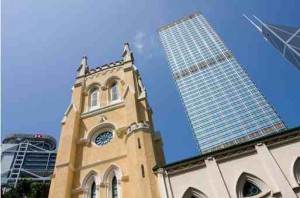 From there, head Southeast, towards where you'll be later taking the Peak Tram up to Victoria Peak. Depending on what time it is (you should try to get up to Victoria Peak by dusk…and budget plenty of time of queuing), you could either skip this part and take the Peak Tram up. Or your other options are to check out either St. John's Cathedral (built in 1847, one of few colonial structures left in Central), or Hong Kong Park or Hong Kong Zoological & Botanical Gardens (opened in 1864; free).
Peak Tram & Victoria Peak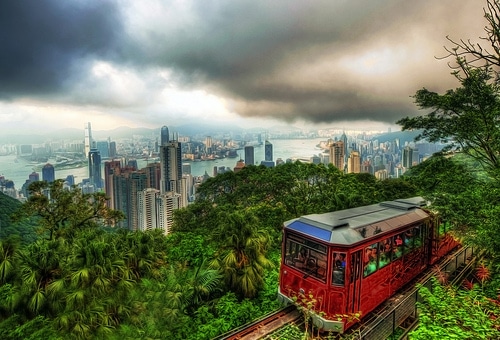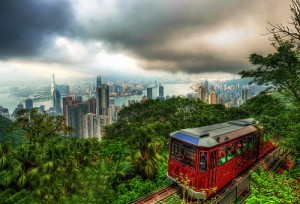 Finally it's time for Hong Kong's best attraction: Victoria Peak! On another day, with more time, you could walk up & down the 392m/1,286 ft hill, Hong Kong's tallest hill. Historically, HK's richest lived on Victoria Peak (to escape the heat); coolies would carry them up the hill in sedan chairs (taking some 3 hours). The Peak Tram opened in 1888 to finally replace them (major upgrade in 1989). TIP: sit on the right side of the tram for the best views down below.
The Peak Tram Terminal is on 33 Garden Road, next to Hong Kong Park (there's also a shuttle bus that runs from the Central Ferry Terminal, # 15C at Pier 7). There are all kinds of ticket combos. For the best views, go for the Tram + Sky Terrace combo ticket. But budget travelers can still find good views without paying for the access to the viewing decks by strolling down one of the many paths offering equally nice views.
[ Lower Peak Tram Terminus is shown on Central MTR station area map ]
TIP: Dress warmly…especially at night when the temps can drop and winds can really get going. You'll probably also be waiting in a long line outside to take the tram back down.

While you're up on the Peak, you've got some options. Nothing to write home about, the Peak Tower is basically a small shopping mall, with some shops as well as a handful of restaurants. The Peak Lookout Restaurant (New York Times Pick & Frommer's "Best Outdoor Dining") has a nice outdoor terrace and an international menu that should have something for even the pickiest of eaters in your group. If you have kids (or even if you don't), you can also check out Madame Tussaud's Wax Museum (www.madame-tussauds.com.hk) or the EA Experience, with free interactive video games. Victoria Peak also has one of HK's best walks: the Peak Circle Walk, an hour-long easy, circular hike that starts at the Upper Tram terminus. The lighted path snakes around, giving great views of the area (popular as a romantic walk). You can also catch the laser & light show that lights up the city skyline while you're up there (8pm every night).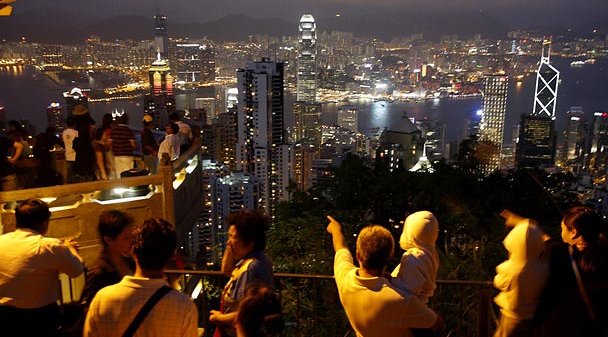 Partying at Lan Kwai Fong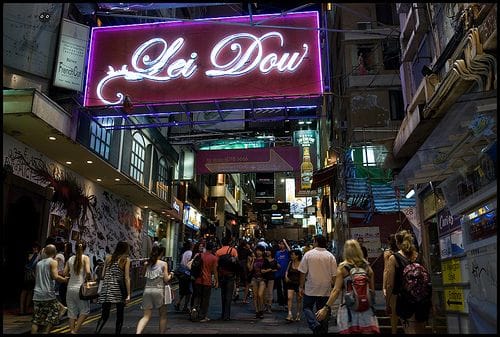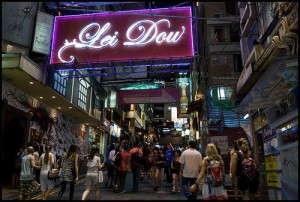 Ground zero of Hong Kong's nightlife scene, this relatively small warren is home to about two dozen bars and restaurants. Known as either "the Fong" or LWF, the area attracts pretty much all types: ex-pats, local suits after work, and tourists just walking around, snapping photos, and soaking in the scene which spills out into the pedestrian-only streets. You can also head directly here for dinner; there are also a good number of up-market restaurants here—from Japanese and Thai to French and Italian. Budget travelers should head to the nearby Wing Wah Lane restaurants for cheaper Indian, Malaysian, and Thai eateries.


48 HOURS IN HONG KONG > Day two:
Big Buddha and Po Lin Monastery (Lantau Island)

Take the MTR (Tung Chung MTR station) over to Lantau Island to see Hong Kong's second most popular tourist attraction: the giant Tian Tan Buddha, weighing over 200 tons. As big fans of superlatives (even if it requires some qualifiers), they like to refer to it as the world's largest Buddha….to be specific, it's the world's largest that is bronze, outdoors, and in a seated position! But it's still pretty damn big, but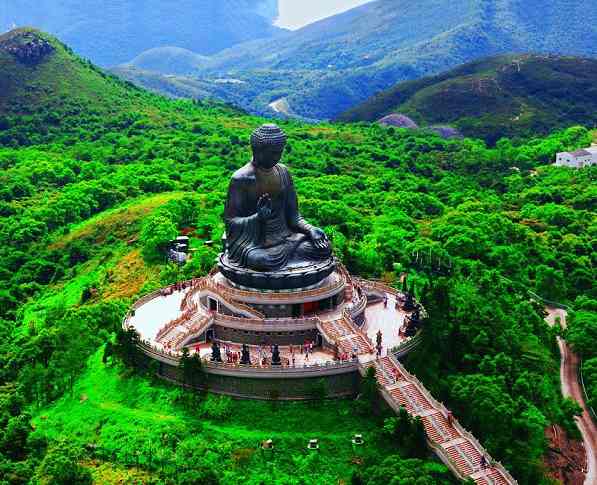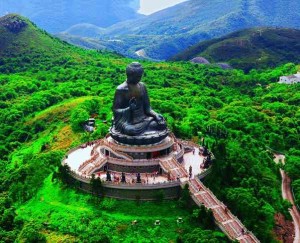 not as impressive as say, the 71m Leshan Buddha carved from the side of a mountain. Try to get an early start (especially on weekends) to beat the crowds, otherwise you'll waste a lot of time in line waiting to take the Ngong Ping 360 gondola, a 25-minute ride giving amazing views of the island. Budget travelers can instead hop on the (slower and certainly less scenic) #23 bus. While you're there, stop by the nearby Po Lin Monastery (built in 1924), which serves a decent vegetarian lunch. Take a stroll down the short, peaceful Wisdom Path (follow signposts on the trail to the left of the Buddha). But don't linger too long, you've got a lot more ground to cover today so move it!
Chungking Mansions (Kowloon)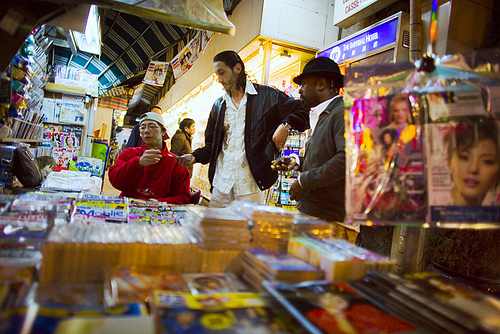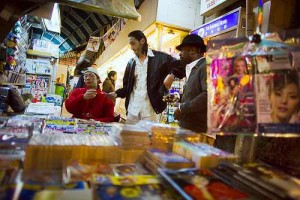 Next head over to Kowloon (Tsim Sha Tsui MTR station) to check out the (in-)famous Chungking Mansions, long synonymous with budget, backpacker accommodation [Note: On Google Map, look for blue marker under Hotels ]. Located at 36-44 Nathan Road, it's easy to miss since the building's front is rather unassuming from the street. The dilapidated building is not only home to cheap guesthouses; the bottom floors are home to cheap Indian & Pakistani eateries and tiny little shops where you can get everything from a haircut to a fake Rolex (good place to exchange currency or buy a SIM mobile phone card). For inexperienced travelers, it's a good place to ease into the culture shock of street hawkers approaching you on the street, if you're headed to mainland China. Not many guides list this as an actual attraction but it's a pretty unique place, a kind of poor man's mini United Nations. Inside and outside, there's a steady buzz of activity and odd mixture of people: backpacking Westerners, African and Indian semi-residents, along with all kinds of random characters.
[ Chungking Mansions–and below Peninsula Hotel–are shown on Tsim Sha Tsu MTR station map ]
Afternoon tea at the Peninsula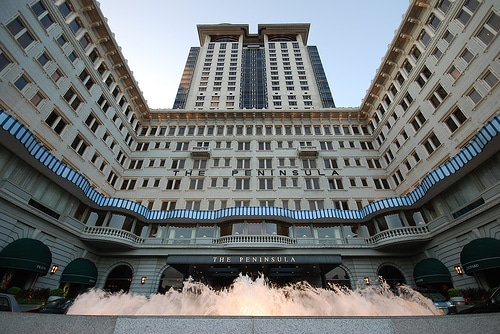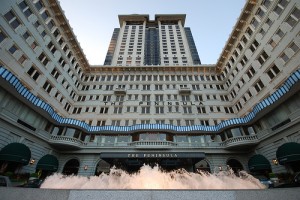 Depending on time and interest, you can experience the other end of HK's accommodation spectrum: taking afternoon tea at Peninsula Hong Kong Hotel is considered one of the most popular HK experiences (personally not my thing). Opened in 1928, the hotel is widely considered one of world's great hotels. Be forewarned that you should be prepared to wait for a table (and should be somewhat nicely dressed).
Visit a Kowloon museum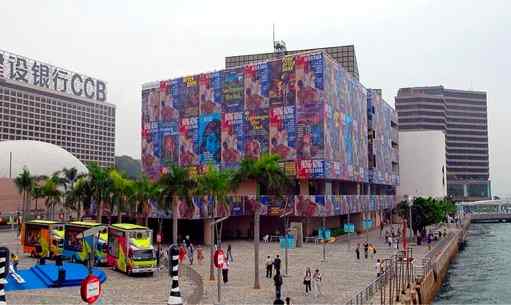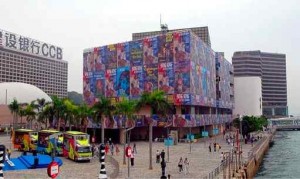 Depending on your interest, there are three good options for your next stop in Kowloon (translating as "Nine Dragons"). Across the street from the Peninsula, you find the Hong Kong Museum of Art. With seven galleries housing everything from Hong Kong contemporary art and Chinese antique ceramics to international exhibitions to historical photos, it's widely considered as an excellent collection worth seeing if you're an art lover. A few minutes away is the Hong Kong Museum of History, taking visitors through an interesting walk through HK's rather remarkable history. The eight galleries present everything from prehistoric Hong Kong (going back some 6,000 years ago) to replicas of village dwellings to WWII film footage and interviews. Or if you have kids in your group, the Hong Kong Science Museum next door, offers over 500 displays illustrating the workings of everything from physics and chemistry to computers and other technologies (and interactive, kid-friendly exhibits).
[ All three museums are shown on Tsim Sha Tsui MTR station map ]
Chi Lin Nunnery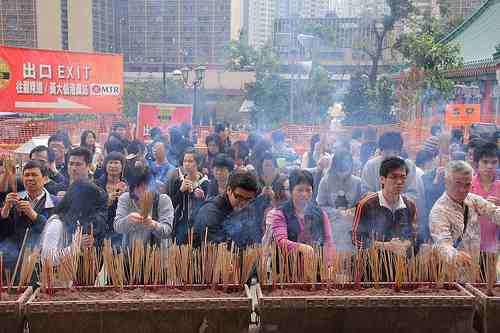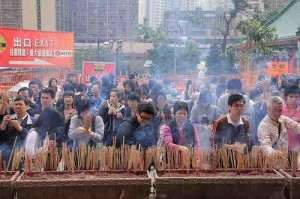 Jump back on the MTR heading north to find the Chi Lin Nunnery (Diamond Hill MTR station). Dating from 1934, the peaceful haven—containing beautiful bonsai trees and lotus ponds in the gardens and courtyards—is considered one of HK's most beautiful and interesting (architecturally). The entire Buddhist complex was built of wood (almost 230,000 pieces of timber)….and without a single nail. Instead, the interlocking design is intended to illustrate our potential harmony with nature. The construction is also an excellent example of feng shui principles. If you have time, the Sik Sik Yuen Wong Tai Sin Temple is one MTR stop away (Wong Tai Sin).
Dinner in Tsim Sha Tsui
Ashley Road and Lock Road in TST. Kowloon's restaurants are mostly found in hotels and shopping malls on, or close to, Nathan Road, the main drag. On a pleasant night, look for Knutsford Terrace for many alfresco dining options.
Harbor Views at Tsim Sha Tsui's Waterfront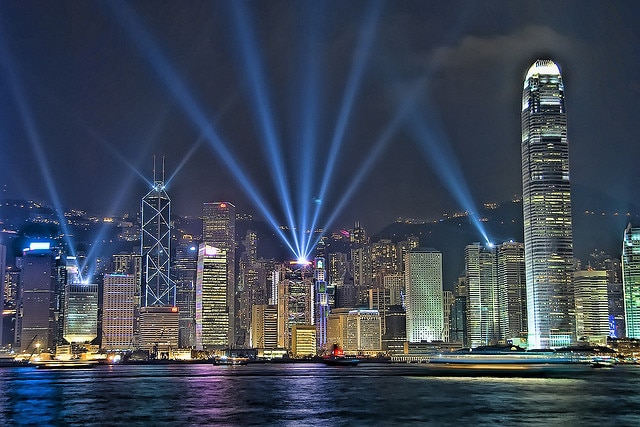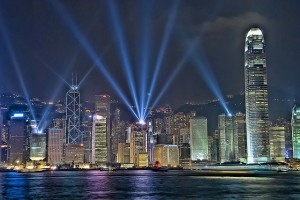 Soak in Hong Kong's skyline, renowned as one of the world's greatest. A stroll down Tsim Sha Tsui's pedestrian promenade is nice by day. By night, it's fantastic. Get there by 8:00pm, when you'll be treated to the best views of the photo opp-friendly Symphony of Light laser & light show (8:00-8:20pm every night), projected in concert with music from both sides of the harbor (TST is the best place to catch the show). While you're there, you can check out the Avenue of the Stars, which honors HK film industry and star (modeled after the Hollywood Walk of Fame).
[ See Avenue of the Stars shown on Tsim Sha Tsui MTR map ]
Temple Street Night Market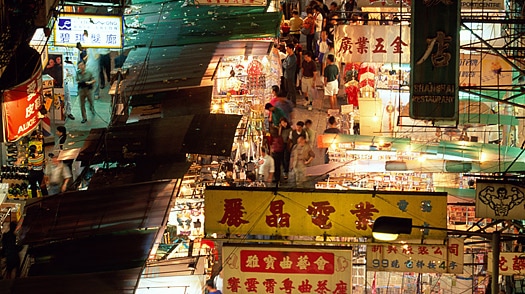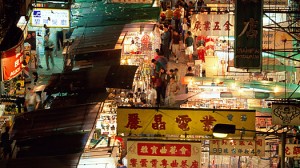 Next stop: Hong Kong's biggest and liveliest night market, located a two MTR stations north of TST in Kowloon. Selling everything from imitation handbags, clothing, and watches to Chinese souvenirs to pirated CDs to sunglasses to dishware, it's the best place in HK to pick up cheap, random gifts (and also a good place for rookies to sharpen their bargaining skills). Keep walking down Temple Street—close to the Tin Hau Temple— and you'll run into a bunch of stalls with fortune tellers (many who speak English), along with street singers. The area is also a good dining option, with many cheap seafood eateries with cramped tables that spill onto the street action. There used to be a lot more, but most have been forced to move into covered markets (there are a bunch at the intersection of Public Square St. and Temple Street). Most sellers set up their stalls around 6pm and shut down around 11pm. For more info on Temple Street Market, see my Hongkong Shopping Guide .
[Temple Street Market is shown on Yau Ma Tei MTR station map).
Star Ferry ride back to HK Island
Assuming you're staying on HK island, take the Star Ferry from Tsim Sha Tsui pier back to Central. Even if you're staying in Kowloon, you should find a way to squeeze a Star Ferry ride in before leaving Hong Kong. The short ferry ride is cool during the day…but much better at night when the city's skyscrapers light up the skyline. Dating back to 1898, the ferry pier is a HK institution and always listed as one of Hong Kong's must-do experiences. Cheap too—the most expensive upper-deck weekend tickets are less than $US0.50 (you can use your Octopus card). Though the TST to Central is the most popular ferry, they also go further, to the Outlying Islands. [operating daily 6:30am-11:30pm, www.starferry.com.hk]

Still looking for something to do in Hong Kong? Here's some other HK area top picks, including some cheap outdoor day trips. Despite what you see on TV, Hong Kong isn't all skyscrapers and urban jungle. Believe it or not, about 70% of the Hong Kong area is countryside, which includes some great beaches, country & marine parks, and hikes with amazing seaside landscapes.
HK ISLAND > Happy Valley Racecourse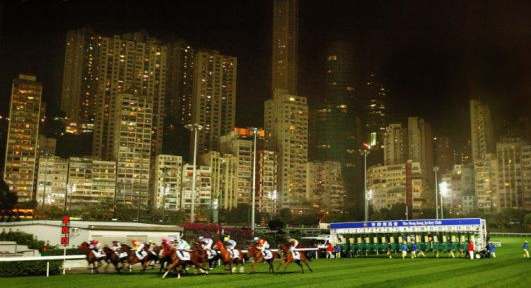 Hong Kong men generally avoid Wednesday nights to get their hair cut. Why? Because that's horse racing day, when everyone—including inattentive barbers—are distracted by the live broadcasts of the horse races. No where else on earth is horse racing so widely and passionately followed than in Hong Kong (it's no secret that the Chinese – most Asian countries really – love to gamble).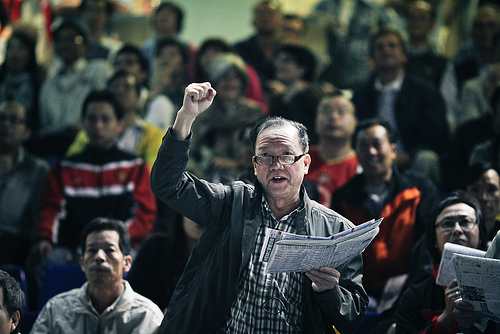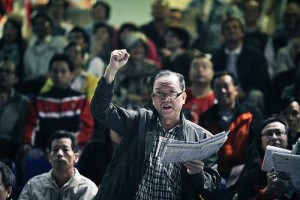 Even though Hong Kong bans casinos (unlike nearby Macau which now surpasses Las Vegas in total annual wagering revenue), HK has one of the highest per capita betting averages in the world. Hong Kong's 2010 horse racing season alone (not including their lottery) accounted for an eye-popping US$9.22 billion in betting turnover. Needless to say, a lot of emotions are on display on your average night at the ponies. Simply put, Happy Valley is one of the world's greatest sporting spectacles.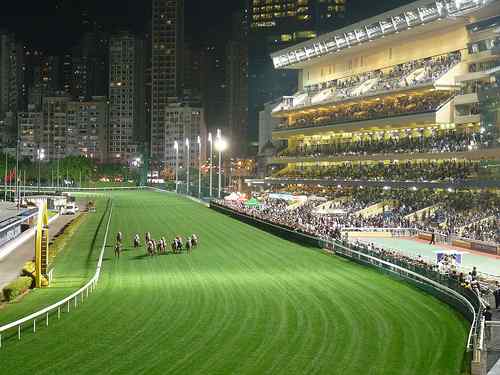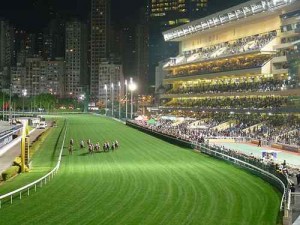 A HK$10 entry fee will enable you to catch all the electric action yourself (TIP: Bring your passport to get in at the $1 discounted tourist rate). In addition to the gambling fever atmosphere, the packed race track also has restaurants and bars, where you can drink some of the cheapest beer in Hong Kong with rowdy locals and ex-pats.
The racing season is from September to June, with races held twice weekly –alternating between Happy Valley and the Shatin race tracks (Happy Valley is much more impressive as well as historic and convenient). The live races at Happy Valley are usually on Wednesday nights.
HOW TO GET THERE: Take the tram to Happy Valley terminus station. Or take the MTR to Causeway Bay station (exit A), then walk south on Matheson/Wong Nai Chung road for 15-20 minutes.
[ For Tram route map and Causeway Bay MTR area map, see HK transportation maps ].


More things to see & do
HK ISLAND > Southern District > Stanley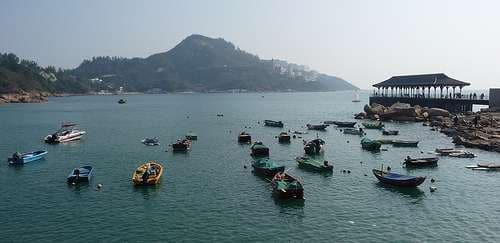 The northern and southern ends of Hong Kong Island are completely different. While the north is the urban jungle that most people associate with Hong Kong, the south is far less populated. A former fishing village, Stanley today is HK Island's most popular day trip — offering a more laid-back seaside atmosphere, a relaxing waterfront and some excellent beaches. Only a 40 minute bus ride from Central, Stanley Village does tend to get crowded on a nice weekend since it's the most popular day-trip for tourists (and locals).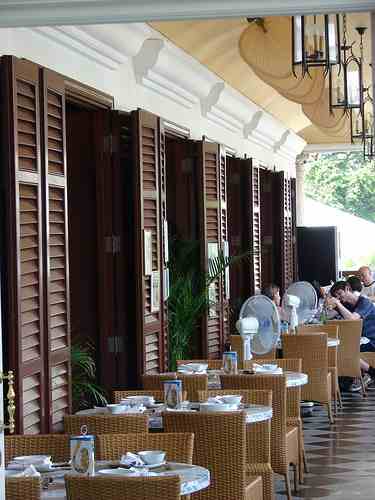 Most people associate Stanley with the popular Stanley Market, a maze-like warren of streets lined with hundreds of shops selling t-shirts, clothes, arts & crafts, silk products, and all manner of Chinese souvenirs. Or take a break from shopping and visit one of the waterfront bars and restaurants.
Stanley's two beaches—Stanley Main Beach and St Stephen's beach, which both get crowded during summer weekends—are also big attractions.
HOW TO GET THERE: Unfortunately, Stanley is beyond the reach of the MTR so you'll need to catch a bus or light mini-bus. From the Admiralty MTR station (exit C1), take bus 6, 6X (express), 6A (during morning & evening rush hours), 66, or 260 from Queensway Road.


HK ISLAND > Southern District > Repluse Bay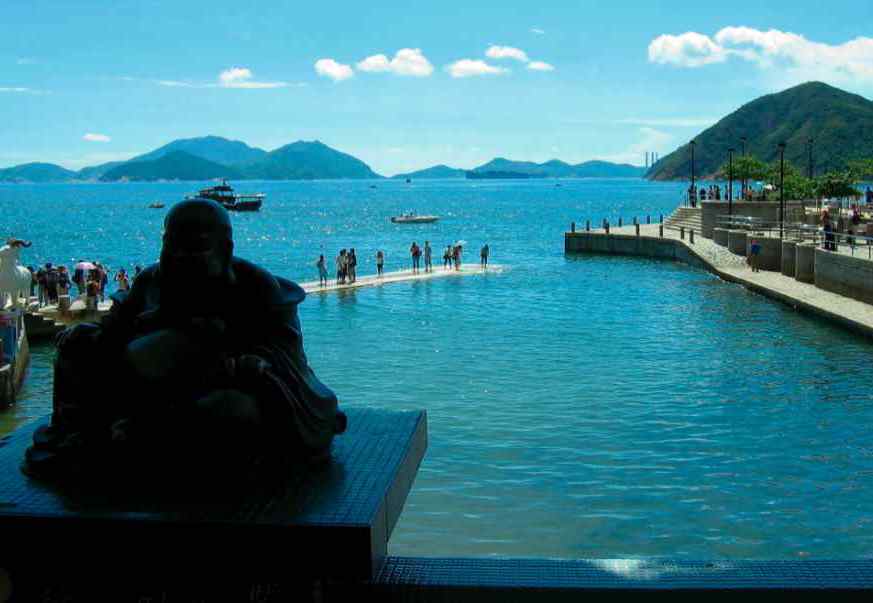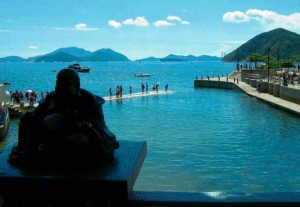 Another popular beach, Repulse Bay—close to Stanley— provides another nearby option for sun worshippers. The area also offers some restaurants/bars as well as some decent barbeque sites next to the beach. Towards the eastern end of the beach, you'll find a popular tourist attraction: the 18th century Tin Hau Temple—home to a statue of the goddess of the sea and said to be the oldest building in HK—as well as other nearby cool temples.
HOW TO GET THERE: From Central's Exchange Square, take Bus No.6, 6A, 6X, 260 or 262 (bound for Stanley). Or take minibus No.40 (bound for Stanley) at Causeway Bay's Tang Lung Street (Corner of Percival Street and Hennessy Road). Or take the Star Ferry Pier from Central.
HK ISLAND > Southern District > Shek O Beach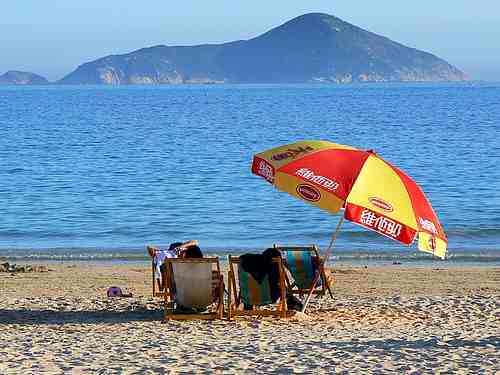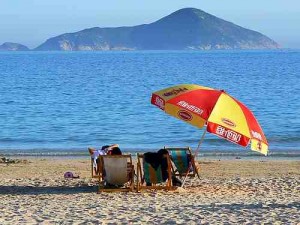 Yet another good beach option in Hong Kong Island's Southern District, Shek O Beach is a relaxing laid-back seaside village with a beautiful beach— only about an hour from downtown HK. The water quality is better than that of Repluse Bay or Stanley, so is worth the extra travel time for swimmers. For the best surfing in Hong Kong, head to nearby Big Wave Bay (about 2km north of Shek O). Like the other beaches, Shek O also has a range of restaurants with al fresco dining, as well as facilities such as lifeguards, shark nets, and changing rooms.
HOW TO GET THERE: From the Shau Kei Wan MTR station (exit A3), take the # 2 Minibus to Shek O.
HK ISLAND > Ocean Park (theme park)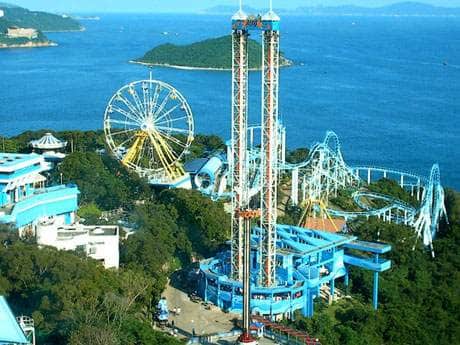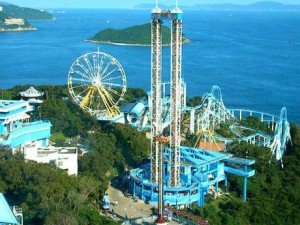 A common question asked by families visiting Hong Kong is: "Should we visit Ocean Park or HK Disneyland?"From my research, the consensus is that Ocean Park is the clear winner. Although Hong Kong Disneyland is much newer (opened in late 2005) and enjoys worldwide brand recognition, it's a scaled-down (small) Disney franchise and, well,….pretty lame. Many guide books and websites have commented that HK Disneyland is really only geared towards young kids (L.Planet calls it "very disappointing for all but the very youngest children.").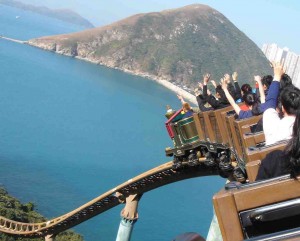 Ocean Park, on the other hand, has something for the whole family (including young kids). A Hong Kong institution, the theme park has invested a lot in upgrading and expanding their rides and attractions. For instance, they feature two excellent white-knuckle roller coasters (Disneyland has one), in addition to other adult-friendly thrill rides.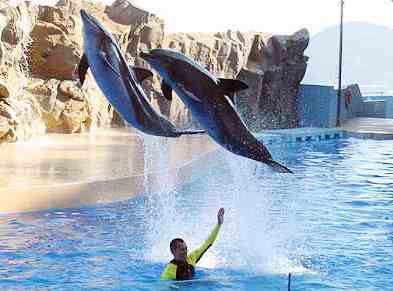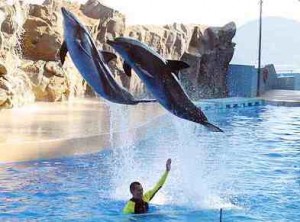 In addition, Ocean Park boasts some excellent (and educational) first-rate marine shows and exhibitions—featuring a great jellyfish exhibition, dolphin and killer whale shows, shark aquariums, and some 200 species of fish.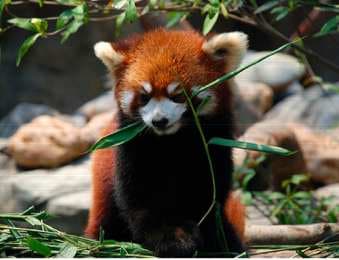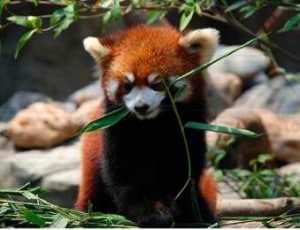 Add in animal attractions—including four giant pandas and four rare red pandas—as well as impressive aviaries and the Amazing Birds Theatre, and you've got a combination of family fun that's hard to beat. To top it off, Ocean Park (adult HK$250 and child HK$125) is cheaper and more conveniently located than Disneyland, which is on Lantau Island.
HOW TO GET THERE: Take the MTR to Admiralty station. Then take bus # 629 (first stop after clearing Aberdeen Tunnel). www.oceanpark.com.hk




Sai Kung Peninsula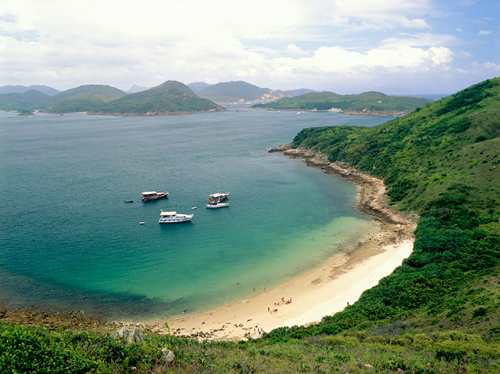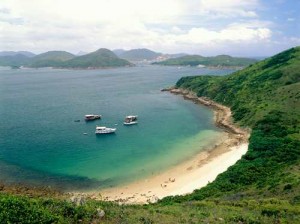 Want to escape the crowds and concrete? Then head over to the Sai Kung Peninsula, which—aside from the Outlying Islands—offers the best green havens for hikers, campers, picnickers, swimmers, and boaters. Sai Kung Country Park—a huge 7500-hectare country park with lush green grasslands, which drop you into secluded, pristine beaches—is where many locals head to get away from the frantic pace of city life.
Located on the east side of the New Territories, Sai Kung features the MacLehose Trail, a 100km route that starts at Pak Tam Chung. Sai Kung Beach is another great day in the sun, with clean beaches and excellent water quality (take bus # 92 from Diamond Hill MTR in Kowloon).
[ Click here for my Best Hong Kong Hiking Trails (HK island, Sai Kung, and Lantau) ]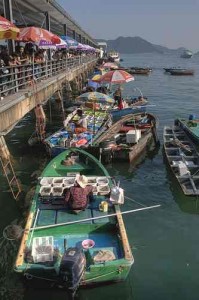 From Sai Kung town, it's worth checking out some of the more isolated beaches if you have time (you can take a small boat, a kaido, from the waterfront). After a day in the sun, the town has some great bars and seafood restaurants on its mellow waterfront.
HOW TO GET THERE: Unfortunately the MTR doesn't extend all the way to Sai Kung Peninsula. But there are many ways to get to Sai Kung Town— the most popular is to take the MTR to Choi Hung station, then take minibus route 1A (the quickest way from Kowloon). From Hong Kong island, the fastest way is to take the MTR to Hang Hau station, then take minibus route 101M.
Lamma Island
Only a 20-minute ferry ride from HK Island, laid-back Lamma Island is another popular mellow escape from the urban jungle that is Hong Kong. The third-largest island of the area (behind Lantau and HK Island), Lamma only has some 5000 residents, including many ex-pat slackers & hippie types (my kind of folk!). The main village of the 13 sq km island is Yung Shue Wan, a tiny town where you can spend some time relaxing in one of their down-to-earth coffee shops, bars or restaurants.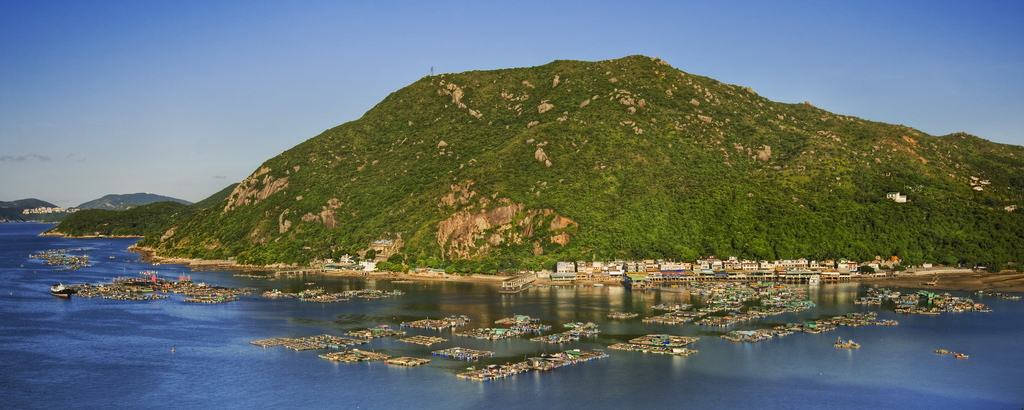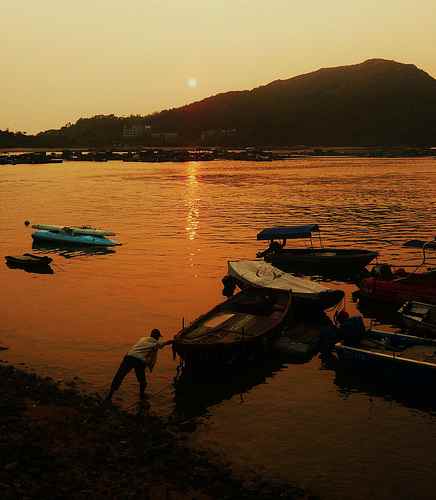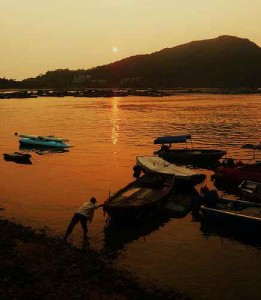 An island with a lot of bikes (and no cars), Lamma is also popular with hikers. Though the hiking trails are not as spectacular as say Sai Kung, they're still a nice way to spend the day, especially if you mix in a beach stopover and some drinks at a local bar. The most popular trail is the 4km Family Trail, which runs about an hour between Yung Shue Wan and Sok Kwu Wan. Not surprisingly, Lamma is also home to a number of excellent, cheap seafood restaurants – with many clustered in one of those two villages.
HOW TO GET THERE: From HK Island, take a ferry from HK Central (Pier 4 for Lamma Island Ferries). Ferries every hour to Yung Shue Wen and every 90 minutes to Sok Kwu Wan (make sure to check the time of the last ferry leaving Lamma).