China Mike's 100% verified, no B.S. China facts (interesting & fun statistics): A broad range of facts about China, which is probably the world's most interesting country: ranging topics from geography to history, economy to national icons, and fun facts.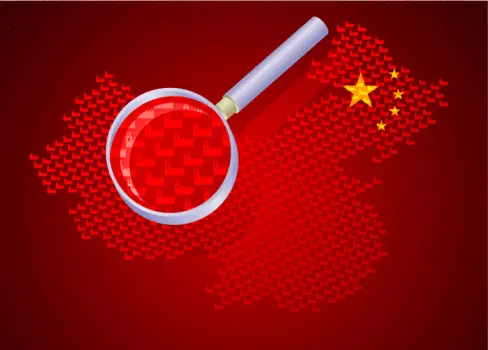 China facts: CHINESE CONSUMER MARKET
China facts: ECONOMY, INVESTMENT & BUSINESS
China facts: MANUFACTURING & WORKFORCE
China facts: URBANIZATION, MEGA-CITIES & MIGRANT WORKERS
China facts: INFRASTRUCTURE & ROADS
China facts: TRANSPORTATION & EXPLODING CAR CULTURE
China facts: POLLUTION, ENVIRONMENT & ENERGY
China facts: TECHNOLOGY, INTERNET & MEDIA
China facts: RICH, POOR & INEQUALITY
China facts: HEALTH, OBESITY & SMOKING
China facts: CRIME, HUMAN RIGHTS & SUICIDE
China facts: WOMEN, MARRIAGE & BRIDE KIDNAPPING
China facts: ELDERLY, YOUTH & ADOPTION
China facts: TRAVEL & TOURISM STATISTICS
China facts: HISTORY, CUSTOMS, TRADITIONS & CULTURE
China facts: CHINESE INVENTIONS & FIRSTS
China facts: CHINESE SUPERSTITIONS
China facts: GOVERNMENT, CORRUPTION & MILITARY
FAST FACTS:
Formal name: People's Republic of China (PRC)
Capital: Beijing
Time difference: UTC+8
(note: despite its size, all of China falls within one time zone, although many in Xinjiang Province observe an unofficial "Xinjiang timezone" of UTC+6, two hours behind Beijing)
Population: 1,330,141,295 (July 2010 estimate: CIA World Fact Book. Last checked March 2011)
[ For more population data –median age, life expectancy, etc—see my China Population: A Demographic Time Bomb article ]
Language: Official: Chinese (Mandarin, based on the Beijing dialect)
Other dialects and minority languages: Yue (Cantonese), Wu (Shanghainese), Minbei (Fuzhou), Minnan (Hokkien), Xiang, Gan, Hakka dialects, minority languages.
Currency: Yuan, also referred to as the Renminbi (RMB)
Monetary unit: 1 Renminbi (yuan) (Y) = 10 jiao = 100 fen;
GDP (purchasing power parity): US$9.872 trillion (2010 est.)
Country comparison to the world: #2 (behind U.S.)
GDP, per capita (PPP): US$7,400 (2010 estimate, CIA World Fact Book)
Country comparison to the world: #127
Literacy Percent: (age 15+ can read and write)
Total population: 91.6%
Male: 95.7%
Female: 87.6% (2007 estimate: CIA World Fact Book)
Internet domain: .cn
International dialing code: +86
National flag: Red flag with five stars (adopted in September 1949 and first flown in Tiananmen Square on October 1, 1949). The color red represents revolution and the large star symbolizes communism. The smaller stars symbolize the four social classes: the working class, the peasantry, the urban petty bourgeoisie, and the national bourgeoisie (capitalists) –all united under the Communist Party of China
Government type: Communist state
Head of State: President Hu Jintao (since March 15, 2003)
Head of government: Premier Wen Jiabao (since March 16, 2003)
Independence: 1 October 1949 (People's Republic of China established)
Other notable earlier dates: 221 BC (unification under the Qin Dynasty); 1 January 1912 (Qing Dynasty replaced by the Republic of China)
National Day: Chinese celebrate October 1 as National Day in honor of the founding of the People's Republic of China.
Other national holidays: Spring Festival (the celebration of Chinese New Year, late-January to mid-February depending on Lunar calendar), International Labor Day (May 1)
[ See When to Travel to China for info on "Golden Weeks" official holidays ]
National anthem: "Yiyonggjun Jinxingqu" (March of the Volunteers) written in 1935, with lyrics by the poet Tian Han and music by the composer Nie Er, honoring those who went to the front to fight the Japanese invaders in northeast China in the 1930s.
Administrative divisions: China is made up of 23 provinces, five autonomous regions, four municipalities directly under the Central Government, and the special administrative regions of Hong Kong and Macau.
[NOTE: China considers Taiwan its 23rd province, however, it remains a defacto independent country]
Legal System: Based on a civil law system, which was derived from the Soviet legal
System. China's CCP party organs exercise authority over judiciary.